This time we're covering an unusual topic. It doesn't directly deal with monetizing traffic, but will be useful for publishers and affiliate marketers who want to scale their businesses and learn how to make money not only through ad codes or affiliate posts.

Podcasts. What publishers need to launch and publish a podcast? How to optimize it and prepare for distribution? Dive into this guide to discover the new way of growing your online business popularity.
Content
What are podcasts and why should you care?
A podcast is an audio blog, and each episode is a unique story. You can either listen to an episode online or download it to your device. Unlike classic radio programs, a podcast is usually hosted by an expert or a group of experts sharing up-to-date tips, hacks, or facts within one market niche. Niches may be vast, like, for example, Affiliate Marketing or Art Nouveau, or, narrow, like, say, Voice Meetings Etiquette.
Is this content format worth fighting for?
At the turn of the century, only 22% of the US population knew about podcasts (Statista). By 2020, more than a third of Americans had already been listening to podcasts on a regular basis. 78% of Americans consider podcasts an integral part of their lives. Facts are facts: people turn to audio formats while on the road, doing everyday routines, during workouts.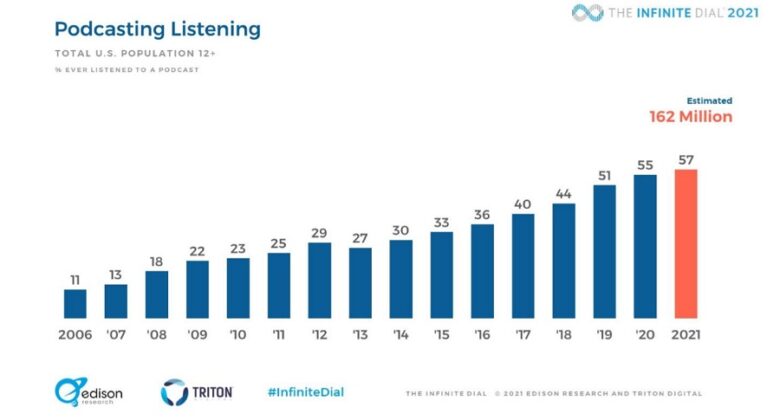 Plunge into a long-read SEO guide or listen to the latest keyword research trends? A decent part of the audience will prefer the second. So, maybe, podcasts can become the next brand-building means for publishers? They are. This article will walk you through how to create and post a podcast on popular platforms, which hosting service to pick, and how to optimize your podcast and distribute it.
In what way a podcast can help publishers and affiliate marketers?
You may have already learned how to place Popunders, In-Page Push notifications and Adsterra VAST video ads on your blog and make money on it. But how can you benefit from a podcast?
In a podcast, you can mention important affiliate blog posts or even endorse products that you are paid to promote. But you need to understand that your assessment should be non-biased, your review — detailed, and your advice — useful.
A podcast can become the user's first point of contact with your content and attract more people to your blog. And that's where they will see the ad or click on the affiliate link.
You can increase your credibility by interviewing a famous person from your industry. It's easier than recording an entire video.
You'll win points with search engines, which will serve as yet another channel for attracting traffic to your other channels.
If the podcast is successful, you will be able to host small commercials like renowned Pat Flynn.
7 steps to planning a top-notch podcast
Before you start actually making your podcast, you should take care of planning and structuring your work.
1. Plan the topic
The episode's topic needn't necessarily match the one of the blog post. Think about the questions most often asked by your target audience in your niche. For that, check quora.com and reddit.com. Your episode should tackle a specific problem of the user and help them solve it. "All at once" topics don't work.
2. Write the episode's script
Write a short script for the episode. Check how logical and clear the story is. Just don't write the entire text. Doing so will force yourself into rigid boundaries and your speech will sound unnatural, artificial. A word-by-word script is a good idea only if you're more comfortable with sight-reading and it makes you sound more confident.
Now, let's go over the main stages of creating a podcast.
3. Record audio
If you are making podcasts out of your YouTube videos, you can use SaveFrom.net. It is a free tool used to download YouTube videos to your computer. With it, you can download the video in MP4 format. For a podcast, you need MP3 audio files. You can use VLC Media Player to convert your MP4 file to MP3.
Recording a podcast on your smartphone
To record audio on your phone, you'll need:
A recording app. For example, Voice Recorder HD. It's free. This app is available for devices that run iOS and Android.
Headphones.
A microphone like, for instance, Heil PR-40. You will find dozens of "top podcast microphones" listings on the Internet. This one is really informative.
To upload a file to your computer for editing, you can use Dropbox. You can connect your phone directly to your computer and upload the desired file.
A smartphone works faster, but using a computer will ensure better sound quality.
Recording a podcast on your computer
To record an episode, you'll need:
A USB microphone.
Recording and editing software. For example, Audacity. It's free.
Headphones.
4. Make an introduction and conclusion
The introduction and conclusion of the podcast are 10 to 15 seconds long. This can be some music, sound effects, your personal musical-textual compilation and much more.

An introduction and conclusion help brand your podcasts. This is a great way to make them recognizable among your users.
You can create your own intros and outros by recording your own voice. Or you can use free music videos from various websites. For example, freesound.org.
5. Edit and save the podcast
The purpose of the editing process is to prepare the podcast for being revealed to the public. You can edit audio clips using the free Audacity tool. You can also use paid ones. Life, Mixcraft.
To start editing, you need to place all parts of the podcast into the editor:
introduction,
main body,
conclusion.
When you're all done with editing, make sure the audio sounds smooth and understandable. Save the edited audio in WAV format. Some parts of your WAV file may sound louder, while others may be softer. To level the volume, you can use the Auphonic tool.
6. Export the audio in an MP3 format
You can upload audio in MP3 format to the hosting. The WAV file must be saved in MP3 format. We recommend choosing the 96 kbps option. This will provide you with a light MP3 file but with good sound quality. Why are light files better? This will allow you to cut down on hosting costs as well as reduce your podcast's loading time for the user.
7. Add tags
You can use the free https://www.mp3tag.de/en/ tool to add tags. List of tags for your podcast:
episode title,
author,
podcast title,
date,
genre,
artist,
composer,
image.
The image is a cover and must be 3,000 x 3,000 pixels. After adding the tags, your podcast is ready to be uploaded to your hosting service.
Choosing a podcast hosting service
You need to choose a hosting service where you will store your MP3 files. Back when you launched your website or blog, you needed web hosting. For a podcast, you need a media host that provides storage space for the podcast, RSS feed, and analytics.
Why you need a hosting service:
First, primarily for storing and later distributing your audio files.
Second, for getting an RSS channel (RSS feed). The hosting generates this RSS-channel for you. You just need to copy it and properly paste it onto the podcast platform.
Third, the hosting will provide you with statistics and other useful features for tracking how your podcasts are doing.
What's an RSS channel or RSS feed?
An RSS feed is a simple code that contains all the information about your show. Primarily, about the path to your podcasts on their hosting. Players read everything embedded in the RSS feed and convert it to a format the listener can understand.
There are special platforms that help people find your podcast. For example, Apple Podcasts, Spotify, Google Podcasts and others. There's a lot of them. They don't store your audio files. These platforms are simply directories that contain podcast RSS feeds. RSS Feeds are lists of links for each of your episodes.

All popular platforms get your podcasts through RSS feeds. Uploading your podcast to the platform means uploading the RSS feed code to it, and that will light the path to your podcast.
What hosting service to choose?
Podcast hosting costs money. As for free ones, we recommend the Anchor hosting service. All paid hosting services have approximately the same features: storage, packaging necessary information in RSS form, connecting to players and platforms via RSS feeds, collecting of statistics. The table below provides information on some of the most popular hosting services.
Hosting
Start monthly
price
Free trial
period
Best feature
Website
included
Supported
files
Bandwidth
Storage
space
Buzzsprout
$12
Yes, but podcasts
are deleted after
90 days
For beginners
Yes
Audio
250 GB (>20K views per episode)
Starts at 3 hours a month
Captivate
$19
7 days free
New and
evolving shows
Yes
Audio
From 12K listeners a month
Unlimited
Transistor
$19
14 days free
Multiple shows
Yes
Audio
From 10K listeners a month
Unlimited
Castos
$19
14 days free
WordPress
Yes
Audio&Video
Unlimited
Unlimited
Podbean
$9/mo (audio),
$29/mo (video)
30 days free
Video podcasts
Yes
Audio&Video
Unlimited
Unlimited
Simplecast
$15
14 days free
Brands and beginners
Yes
Audio
From 20K listeners a month
Unlimited
Resonate
$25
45 days free
Complete set
of features
Yes
Audio
Unlimited
Unlimited
Libsyn
$5
None
For beginners
Yes
Audio
Unlimited
Unlimited
bCast
$15
14 days free
Audio calls to action
Yes
Audio
Unlimited
Unlimited
Spreaker
$20
30 days free
(if with promo code)
Live Podcasting option. Built-in chat
Yes
Audio
Unlimited
Unlimited
Blubrry
$12
30 days free
PowerPress plugin for WordPress
Yes
Audio
Unlimited
100 MB of audio storage a month
PodServe.fm
$12
14 days free
Promotion on PodParadise
Yes
Audio
60K downloads per month
2,000 GB a month
Podiant
$12.99
None
Auto publish to YouTube
Yes
Audio
Unlimited
Unlimited
Backtracks
$99
14 days free
For large companies
Yes
Audio
Unlimited
Unlimited
audioBoom
$12.99
None
Special promo after
10K downloads
Yes
Audio
Unlimited
Unlimited
How to upload your podcast to popular players
So, you picked a hosting service, registered with it, uploaded your podcast and are ready to copy the link to your RSS feed. Where to publish, then? Let's go over the most popular choices.
Apple Podcasts
The first step is to add your podcast to Apple Podcasts. This is necessary to prove you have the right to host your own show. Most other platforms automatically add whatever gets added. Use Podcast Connect to add your show to Apple Podcasts.
Create an Apple ID. In order to check whether your RSS feed is in compliance with Apple's requirements, you need an Apple ID. If you don't have one, you can create one here.
Add your new podcast to Podcasts Connect. Use your Apple ID to log in to Apple Podcasts Connect.
Click the "+" in the upper left corner to add a podcast.
In the field that appears, enter your podcast's RSS feed URL and click "Submit". In the preview window, verify all your information.
Then click "Send". Apple will send you an email confirming the podcast was received. Approval will take 24-48 hours. You will receive an email with a link to your show (if approved).
Spotify
Create a Spotify account. If you don't have an account yet, you need to create one. Then click "Start". Read the terms of use, enter your full name. Click "Continue".
Add a link to your RSS feed.
Then add a link to Spotify and click "Next". Confirm that you are the owner of the podcast. Click "Next".
Enter additional information about your podcast (Country, Language, and Category). Fill them out and click "Next" and "Send". It'll take a couple of hours for Spotify to approve your application.
Google Podcasts
Google Podcasts is the best way to listen to podcasts on the Google platform. Your podcast will appear throughout the Google network. Google will display your podcast episodes in its search results. This will make your show even more noticeable.
Log in to your Google account. Go to this Google page and input your RSS channel in the top field. Press "Publish". It will take from a few minutes to several hours for Google to index your RSS feed.
Confirm your rights to the show in Google Podcast Manager.
Log in to Google Podcast Manager and click "Start now".
Input your show's RSS channel. Google has to match your show to the one you submitted. Insert an RSS feed and click "Next Step".
Confirm that you are the owner of the podcast. Google will send a verification code to your email. Find it and submit it to Google.
In a few days, your show will appear on the Google Podcast lists.
How Google finds and publishes podcasts? Google's search bots constantly scour the Internet for RSS feeds. When Google discovers a new feed, the system scans it and creates an entry in Google Podcasts. After that, users can listen to this podcast on various platforms.
Libsyn
To upload your podcast to Libsyn, click "Upload". It's at the top of the screen. Then select the file at the top of the screen and upload it. In addition, you need to log in and fill in additional tags as well as a description.

You can insert a link to a podcast on your blog with the Libsyn Publisher Hub plugin. This plugin links your WordPress website to your Libsyn account, making publishing to WordPress from Libsyn much easier.
How publishers and affiliate marketers can optimize podcasts
Write a short and clear description. What is your podcast about? Include additional tags in the description. What is your audience looking for?
Include links to your website, blog, YouTube videos, social media groups in the description. This way, more people will learn about you and your platforms.
Post links to your podcast on your website, blog, in social media groups.
Create a unique landing page for your podcast and promote it on social media.
Use email newsletters to generate interest in each new release.
Upload your podcast to a wide variety of platforms.
Top 5 affiliate marketing podcasts for inspiration
Below are examples of great podcasts for you to draw inspiration from. While listening, pay attention to:
how the storyline of each episode is developed;
how the speaker engages the audience and then retains the listeners' attention;
what topics the author chooses to cover;
how each episode is structured.
Take note of the pros and cons of each episode. What, in your opinion, turned out well and what parts did you dislike?
Conclusion
Creating, publishing, promoting and optimizing your podcast takes work. It took years for the most successful presenters to gather the millions of followers they have now.

But the battle is worth the blood. Attract your target audience, keep creating useful and high-quality content. Put in the effort and you will create a show that makes you money with every new podcast episode.

Make each new episode into an investment in your business and a great additional way to monetize your website or blog. And while you're on your way to becoming an audio celebrity, don't forget to get extra money with your website traffic.