With the Adsterra Self-Serve Platform, you can cherry-pick cost-effective CPC push traffic while targeting any traffic segment you need. This short guide will immerse you into the process of a CPC push campaign setup and share a couple of pro insights for buying traffic with Adsterra.
What is push traffic by Adsterra?
With Adsterra, you become a master of the most promising push traffic. We serve over 1,7 billion in-page push impressions weekly.
Web push are still ok, but over the last 2 years till now, our research has been revealing their fadeout. In 2021, we decided to offer all our publishers a major shift from web push to In-Page Push. The results were stunning, both for publishers' profits and advertisers' ROI, so now we carry on mainly with the in-page format.

In-Page Push is a better performing alternative to web push, and is fully integrated with the Social Bar ad format. It's available for free for every SSP advertiser. You either go a traditional push format or pick the enriched Social Bar with tens of robust templates.
To Contents ↑
Why buy CPC push traffic with Adsterra?
The cost-per-click model is preferable to many affiliates who are paid for clicks.

Direct advertisers choose this pricing model mostly to test a new traffic segment or when the conversion flow on their offer is pretty simple. That's how they manage to pay less compared to the CPA model while collecting enough conversions.

However, if you're sure ads will have tremendous CTR, it's reasonable to go for the CPM pricing so as not to overpay for tons of clicks 😉
Upsides of the CPC push ads
Buying CPC push traffic is the safest way to test a new ad network if you're unsure how traffic will behave.

You can weed out the least-performing In-Page Push creatives more quickly just by checking the number of clicks and CTR.

It's easier to predict how well users will convert with CPC traffic. On the other hand, if your landing page is not engaging enough, you risk losing your pre-warmed users who clicked on ads but churned after seeing the final offer.

Spendings become more predictable when dealing with the CPC push ads, as you can count the number of clicks you'll get within your budget.
To Contents ↑
CPM vs. CPC push traffic
Since you only pay for clicks, your ads are shown to relevant audiences for free. Thus, you continue building brand awareness exactly the same way you did with the CPM pricing. The only exception is that with CPM, you had to pay for ad views.

On some GEOs, you will even find that buying the cost-per-click push traffic is decently cheaper than investing in its CPM rival. By way of illustration, minimum bids for desktop traffic from Indonesia, India, and Brazil are $0.001. Current updates for minimum CPC bids are published in the advertisers' help center.

How do you compare CPM vs. CPC prices in real time? It's easy when you're on the SSP platform. Each time you set up a campaign, our innovative Traffic Estimator tool will display optimal bids for the traffic type you picked. Here how it looks like:

To Contents ↑
How to buy CPC traffic with Adsterra?
Launching high-effective push ads campaigns in minutes while retaining complete control of your spending: that's the core differentiator of Adsterra SSP. But not the only one.
You can add up to 15 creatives to your campaign, which allows you to run tests much faster.

All existing targets are available, including targeting mobile carriers, and browser versions.

You can scale and optimize much faster by slicing your traffic and testing new targets.

A campaign can be sent for verification or edited in minutes because all settings are available on one page.

Minimum bids start from $0.001$ for some countries.

You move from test to real profits with over 11 in-page push creatives templates.

In-Page Push is now a part of the Social Bar ad format. Over 20 engaging templates come as your default package of creatives. You will only have to add pictures and texts.
To get started, you only need to register as an advertiser 😉
To Contents ↑
How to set up a cost-per-click push campaign
Once registered, you can either begin setting up a campaign or top up the account first. Usually, a $100 budget will be enough for tests and first conversions. Adsterra protects you from overspending with a budget limit setting, but we'll get back to this a bit later.

From your account, click the hamburger menu and hit Campaigns → Create. You will be moving from general settings to specific ones. Step 1 is obligatory yet sufficient for sending a campaign for verification. So what do we get here?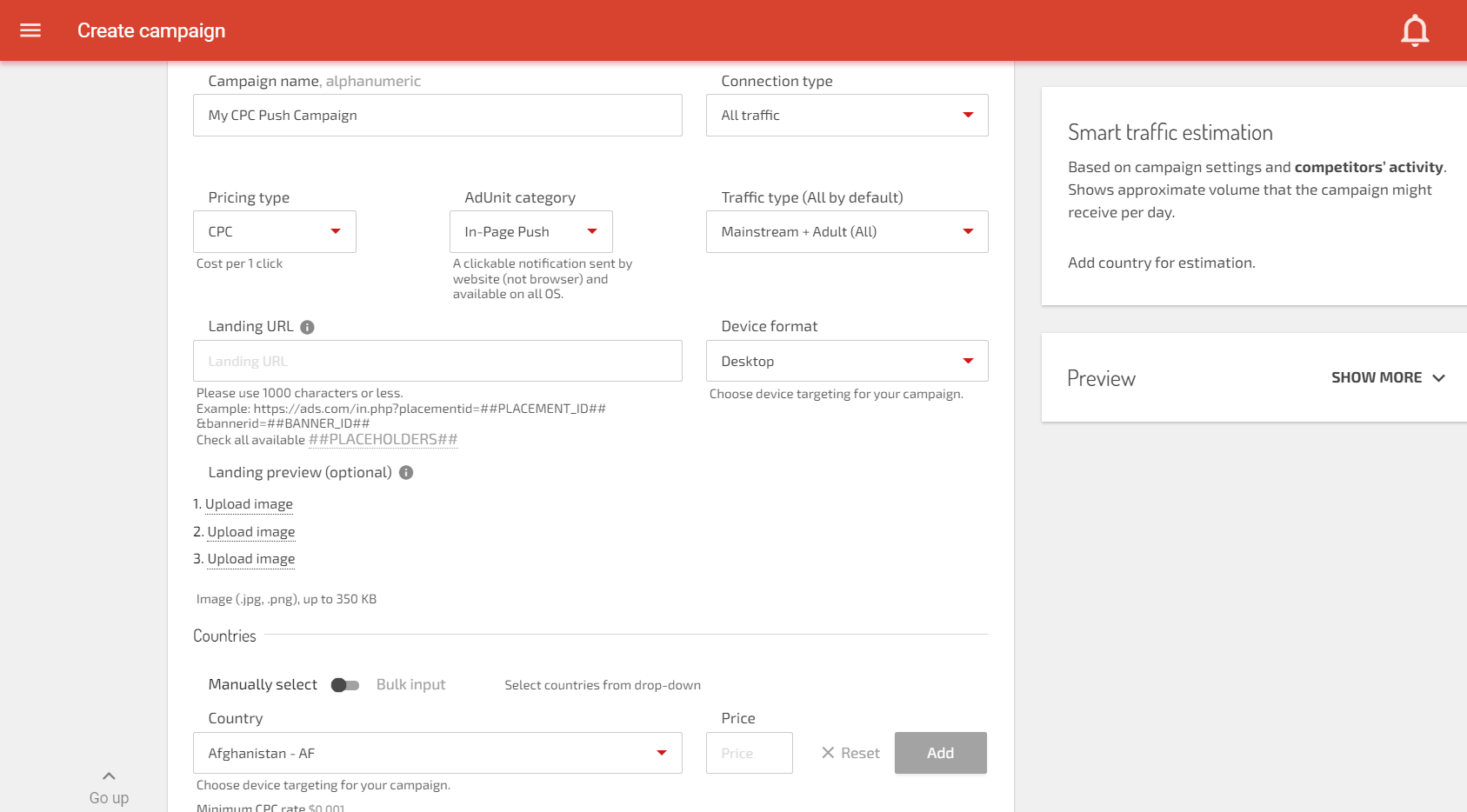 To Contents ↑
Vital settings for targeting the right push traffic sources
Type in your campaign's name.

Then, jump to the Connection type field and choose the one you require: All traffic, 3G/4G, Wi-Fi.

Next is the pricing type. From the dropdown, pick CPC.

You can now select the Ad unit or format. As we're here to get cost-per-click push traffic, you will need to pick either In-Page Push, or Social Bar as its advanced version.

Traffic type is another vital setting. If not prohibited by your advertiser, pick all traffic, including non-mainstream or niche.

Next comes the Device type setting. We recommend splitting your test campaigns by device type if you target desktop and mobile users. This will help you find out the top-performing traffic faster.

Select the country you target. It's better to create one campaign per each country since the same push traffic sources can perform differently depending on the geo.

As mentioned earlier, you can check how much CPC push traffic you will get with your bid or detect the minimum cost with our built-in Traffic Estimator tool.

You can't submit a campaign without entering a landing page URL.

When using a tracking system, remember to first set up a postback and then add the Adsterra tracking tokens to the URL.
To Contents ↑
Push ads creatives
Before you submit a campaign, you need to upload creatives. On the setup page, there is an option to add up to 15 creatives. The more, the better. And the more they differ, the more representative your tests will be.

Pick among the In-Page Push or Social Bar templates (depends on which ad unit you chose in step 1. If not sure of which template matches your offer best, read this Social Bar Best Practices guide.

In step 3, Cappings and Limits, you can make use of the daily or hourly budget limits. The first one allows for controlling your daily spending. The second one helps you equally distribute the money within 24 hours hence you won't miss the primetime for your ads.

These were the basics of the CPC push campaign setup. A necessary minimum to start a test. With the Self-Serve Platform, you'll be able to scale and optimize your campaign later using over 20 settings.
To Contents ↑
Summary
With thousands of push traffic sources onboard, you can reach out to any audience with Adsterra. Though CPC push traffic seems more predictable and less risky to buy, you will need a balanced approach to creatives here.

Remember about the consistency between your creative and a landing page. Avoid misleading users or promising them something they won't find on the lander. This way, you'll harvest the largest ROI with CPC push traffic!

Adsterra managers will help you out with roaring creatives' ideas and bidding strategies. Although we provide AI-powered traffic estimation, no one can be as helpful as your manager. They can check your campaign's ranking against the nearest competition and advise on the winning target and bidding tweaks. So, even when on the SSP, you will never be left alone.

Go ahead and win all leads!