Picture this: you made a bunch of great creatives, set and tuned targeting, come up with a payout, and added whitelists. It goes pretty well, and you get, say, 30–40 leads daily and 100% ROI. It's time to make more profit! You decide to double your ad spend or add more creatives to attract those who didn't click earlier. Done! But tomorrow you get the very same 30 leads, and the next day, 20 leads and ROI 50% 🙁 Here comes the challenge: how to scale up your CPA campaign achieving better results and not facing the performance drop? 
You're right about finding it out. Our star expert, Aina, who's heading the CPA Dept, is here with a set of tips for both beginners and pros. Read on and use all of them!
Hello there! It's time to fuel up CPA campaigns with quality traffic. This guide will be Part II of the one my peer Dasha, who heads the CPM & RTB Department, published earlier. Save the first part to read later — it's very informative.
Sometimes, you will need only minor changes that will return you numerous impressions and stellar conversion rates. Today we will examine a nice set of them. Use these tips each time you want to break through and find more users willing to buy your products. But first, let's figure out why scaling up is not synonymous with optimization.
Why "scale up a CPA campaign" is not equal to "optimize" 
When you optimize a campaign, you're normally operating within one traffic type. You might be looking for how to achieve the same conversion results at a lower price or obtain more conversions by increasing the payout. Or, you're adding new creatives for spicing up CTRs that started nosediving. 
Therefore, optimizing means squeezing maximum profit from the current targeting and settings. A vital process of every campaign, it is not sufficient, however. You may raise rates and tweak creatives but the ROI will be dropping and dropping. That's when scaling may come to the rescue!
You go for alternative traffic types when you scale a campaign and win if you know the winning tricks. Now we move to learning these tricks ☺️
How to scale up CPA campaigns: your winning set of actions
1. Use the 3-dimension payout tactics
When a campaign performs well, the first thought is to raise the payot rates to get more traffic. The truth is that algorithms behind Adsterra take into account how resultative the campaign is, not only the payout you choose. 
If you want to scale up without a drop in performance and with significant growth in KPIs, you need to make sure in 3 things:
what your competitors are doing at the moment and what their rates are;
what users are doing at the moment = traffic behavior;
the contributing factors are favorable (seasonality, events, economic issues).
And here comes the following question: where and how to get this information? Let's move on to the next tip.
2. Regularly check the best rates with your manager
You can get everything for a laser-focused payout strategy from your manager at Adsterra. Here is what you need to ask.
2.1 The current highest CPA rate
The highest CPA rate will help evaluate your competitors' activities. It often comes that a minor 10-15% lift is enough to overbid your competition and get the most fruitful traffic. 
2.2 The highest eCPM/gCPM
Conversions and efficiency are key to getting top traffic, not the payout value and not the $$$ on your balance. To pump up the efficiency of your campaign, you need to check with the best eCPM within the ad network.

This metric is called "effective cost per thousand impressions." It shows how well your campaign should convert to get more impressions and move to the first position. It's extremely important.

The eCPM rate differs from the simple CPM as it includes the already achieved (aka effective) target actions: clicks, leads, purchases.
Using eCPM to place rates smarter
The eCPM formula is: gross / impressions * 1,000 = eCPM
Imagine that you're aiming at getting at least 2,000 leads over 120,000 impressions per period. Which rate will hit? $6 or, maybe, $1 is enough with your targeting? You ask your manager which is the most effective cost per 1K impressions that can stream you the desired number of leads.
Just as an example, you can get the answer that the eCPM for your targeting and niche could be $25 and the payout for conversion $1.5. The manager used this formula to evaluate the similar competitive campaigns that get 2,000 leads over 120,000 impressions:

You can now simply ask which rate to place to get similar rates.
Adsterra AI algorithms assess tens of parameters like eCPM, ROI, I2C (impressions / clicks ratio). They signal us how valuable your ads are for target users, how well you target, and how well your offer competes with similar ones.
2.3. The current state of traffic 
Your manager will also provide you with up-to-date traffic trends connected to seasonal changes and significant world events. Seasonal drops in sales, as well as plummets, often happen earlier than one can expect. So a timely check-up will be helpful.
3. Start with Popunder
You probably know that pop traffic has always been the most massive and traffic-boosting. Well, the rule of thumb is to test your campaigns with popunder traffic. It's the most representative as well.
With Adsterra Traffic Chart, you can check the number of impressions for pops and other ad units.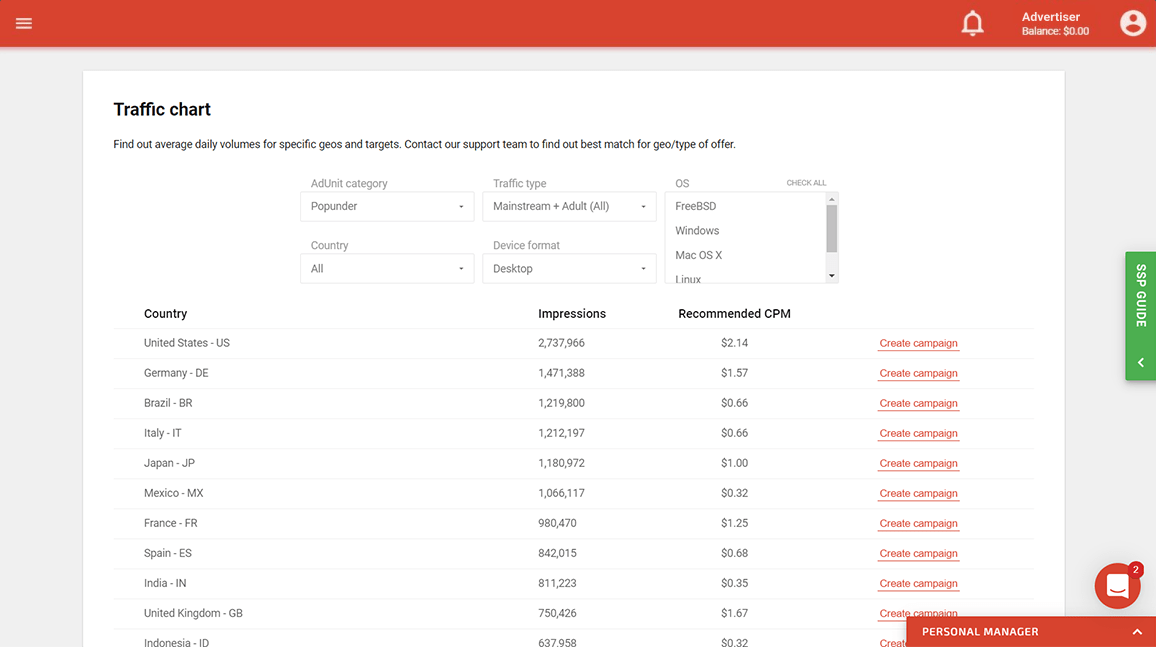 4. Scale up with clone campaigns using different ad formats 
Popunders are great, but there are up-and-coming ad formats that publishers tend to use as an alternative. More and more publishers choose Social Bar, which is an advanced push format with multiple creatives' templates. It proved to convert up to 5–7 times higher.
If you're an affiliate marketer, ask your direct advertiser if it is OK to add native banners or classic banners. You will have to get the visuals to make super-engaging creatives as well.
As we started talking about creatives, let's carry on with how you can come up with those that don't consume all your time but bring solid CTRs.
5. Instead of making creatives from scratch, use Adsterra insights
Well, if you know for sure that your creative will rock — go for it! But time is money, and sometimes it is worth getting some ready-to-use insights and templates.
With the Social Bar ad format, you already have over 20 templates tested on vast amounts of traffic.
If you are running a Popunder or Native Banner campaign, you'd better ask your manager to share some template creatives for your offer type. I can assure you you'll be surprised and get a massive influx of inspiration. 
Managers access the creatives' gallery, where they pick the top-converting and CTR-boosting.
For managed campaigns, we design the whole pack of visuals and carry out A/B tests.
Scale CPA campaigns safely: extra tips to explore new traffic 
If you're trying a new GEO you can't determine how your offer will convert here. So it is better to set daily spending limits. With Adsterra, it is easy as pie.


Save your best-performing creatives. In most cases, it will be enough to change the primary color or the heading to refresh the design and start streaming clicks again.


Avoid the all-dimensions scaling when you simultaneously add new GEOs, devices, traffic types. You risk losing control over results and confuse good and bad moves. Move carefully, testing one new trick after another.


Never underestimate trends. There are no fixed rules of how traffic reacts to ads, but you can always stay up to date if you contact your manager.


It will be much more effective if you copy a well-performing campaign and launch it with a scaled parameter. Try not to apply all changes to one campaign.
Conclusion
That's it for now. There are dozens of first-class tricks out there, and listing them all will make this post too dense. Whenever you get stuck with creatives' options or payout strategy, drop a line to your manager, who will always share a couple of bright ideas based on trends and figures ☺️