What if we marry a Dating CPA offer to Facebook browser targeting? They will live happily ever after. At least, you are guaranteed to profit from this match. A pro Afflift member, Jaswinder Singh, has agreed to share an unusual case study of promoting an SOI offer with Adsterra CPM traffic. Let's get every piece of advice!
---

As this case study is provided by one of our partners, we keep the spelling untouched. We try to maintain a unified structure for all case studies, so we sometimes make a few changes in the sequence of paragraphs. The author's opinion does not necessarily reflect our views.
---
Hi there,

In this case study, I will share my experience with promoting a CPA Dating offer on CPM traffic and the significant success I achieved with Adsterra.

I took a SOI offer from a well-established dating network that allowed multi GEOs (geographical locations) for the offer. Recognizing that Adsterra offered Facebook browser traffic, I focused solely on running this offer using that traffic source.

I specifically targeted Android users. Initially, I started with one GEO, and upon receiving conversions, I expanded my campaigns to include other GEOs as well.
---
Summary of my campaign for a Dating CPA offer:
Campaign Start Date: 08 June
Campaign End Date: 19 June
Offer type: Dating SOI (single opt-in)
Offer limits: mobile only
Geos: Multi-geo
Ad Format: Adsterra Popunder
Pricing Type: CPM (cost per mille, or cost per 1,000 impressions)
Spent: $43.09
Profit: $247.23
ROI: around 474.42%
Now let's get down to the campaign itself.
How I chose my targets and bidding
To start with, I checked the offer's terms and found out that it allowed targeting the Facebook browser. I knew Adsterra offers this targeting setting, and as I had money on my account I decided to give it a try. So, there were no huge spendings from my side at all.

Actually, my total costs amounted to $43.09. This cost encompassed the expenses associated with the ad impressions served through the Adsterra network.

To narrow down the segment of users, I decided to add Android only OS targeting. But you should always check with traffic volumes before doing such segmentation. Sometimes, a network can't send you enough traffic. Adsterra provided me with a helpful tool that shows the expected number of ad impressions for your targets and bidding. See how it works in the next lines.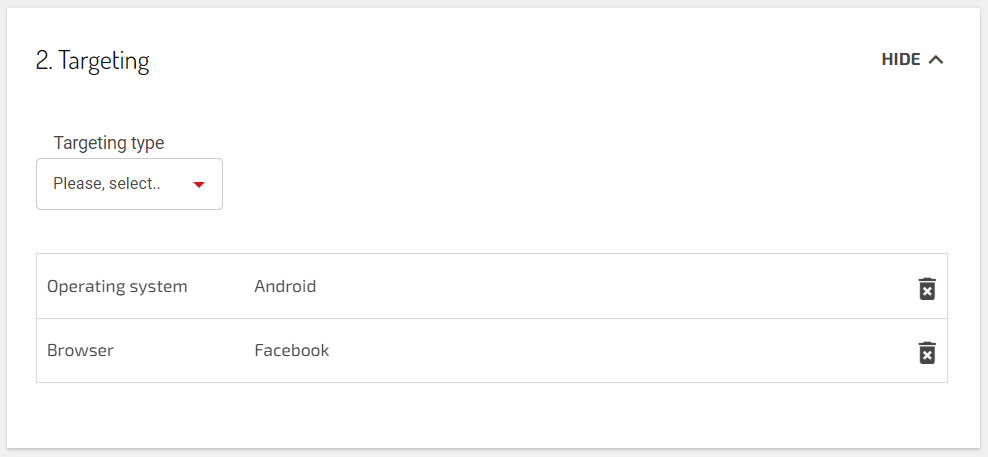 I chose CPM (or cost-per-mille) traffic. Adsterra offers an option to estimate traffic volumes you can obtain and lists two possible bids, a minimum one and a recommended one. I used recommended bids for countries with fewer impressions to ensure my ads get the best views. And I had to increase the recommended bid a little if Adsterra showed I would not get enough traffic.

Geo targeting
My affiliate network allowed multi-geo targeting, and that's great, because I could add new countries one by one. I started with a less expensive Italy (IT). Tests returned good results and scaled my campaign to Spain (ES), and then, to the most expensive US (the United States), UK (The United Kingdom), and AU (Australia).

I set up a new campaign per each new geo. That allows for more transparent analytics.
Optimization
Throughout the campaign, I closely monitored the performance and made optimizations as necessary. This was not a special case, so I only used basic optimization.
I paused campaigns that were not generating conversions for specific GEOs to focus resources on the most successful areas.
I re-estimated the traffic volumes per each geo to get enough traffic and edited my bids.
To be totally sure I don't spend in vain, I checked with the Adsterra statistics. There were no CTRs (click-through rates) for Popunders, though you can track them if you have a conversion tracker. One of the metrics to check is Impressions/Click or I2C. My results were excellent as I got 3.5% and 4%.
The output of advertising a Dating CPA offer
Overall, my approach to targeting proved to be very successful, as demonstrated by the following key outcomes:
Total cost: The total cost of running the campaign amounted to $43.09. This cost encompassed the expenses associated with the ad impressions served through the Adsterra network.
Earnings: The campaign generated impressive earnings of $247.23. These earnings represent the revenue generated from the conversions achieved by promoting the dating offer.
Return on investment (ROI): The ROI is a crucial metric that assesses the profitability of the campaign. By calculating (Earnings – Total Cost) / Total Cost, we can determine the ROI. In this case, the ROI is 474.42%.
Here below I provide a screenshot of my payouts I took in my affiliate network's account.

By exclusively targeting Android users browsing via Facebook, I took a significant loaf of quality traffic that converted into signups.

I must say that not every attempt with Adsterra or any other ad network will be successful, but when you find a source of clean traffic, keep your account active and use every opportunity to run a new campaign.
---
To conclude
In conclusion, let us thank Jaswinder Singh for sharing his experience and providing Adsterra blog readers with a workable flow for running a successful campaign for a Dating CPA offer. Check more case studies for Pop traffic, like this one featuring the iGaming campaign gaining $3,221 in profits.

What can we add here? More cost-effective tools, of course. If you're planning to buy CPM traffic in solid volumes, try CPA Goal. This tool will optimize your CPM and CPC traffic by the desirable number of conversions or eCPA. Want to give it a try? Join Adsterra!