Wouldn't it be great if the website, forum, or blog you invested in, paid you back with substantial profits? You might have huge organic traffic, thanks to good SEO and quality content, but if you don't put ads on your website you'll not make enough money from it.
As a publisher or website owner, you know about third-party ads on websites. But what you may not know is how much your ad spaces can generate in passive revenue. As per Statista, the global ad spending for Banner Advertising can hit $184 million in 2022 with the annual growth rate of 5.10%. And this trend will keep evolving till 2026.
Let's look closely at how to put ads on your website.
Is it worth it to put ads on your website?
Yes. According to a study, 85% of the viewers are okay with contextual ads. You can make a lot of money just by advertising stuff associated with your article or your blog topic. Although some website ads can be annoying when they're irrelevant, you can still earn money from them. Contextual ads benefit your users too.
Let us go through some other reasons to monetize your ad spaces:
Productive revenue that can be invested in updating the website

Long-term connections with advertisers and customers

Broaden the niche and gain authority over the editorial board

Use the resources to possess a proper workspace, an enthusiastic professional team, and a brand

Build an alliance with advertisers who deal with a bigger brand
To Contents ↑
What Is an Ad Space?
Ad space is the area of a website or Web page dedicated to online advertisements. This space is vital to websites driven by ad revenue. The price of ad spaces are generally determined by ad formats, placement, and website traffic.
Your website or blog can have multiple ad spaces: the website's header/footer or sidebar area. They typically accommodate text, graphics, animation, and video.
Remnant ad space (also known as remainder advertising) refers to unsold ad space, which are often discounted via cost per click (CPC) and cost per action (CPA) advertising.
Adsterra publishers get highly paid for putting ads on their websites. From 2020 to 2021, our yaerly payouts grew from 31 to $54.6 million. Become a part of a community of passionate monetizers!
To Contents ↑
Selling Ad Space Requirements
Traffic
To be attractive to advertisers, publishers should have a large audience of visitors. Advertisers get more eyes on their content when you have more page views. Most affiliate networks and ad platforms have minimum requirements for traffic before working with you. No one will pay you to sell their products on your website if you don't have enough visitors every month.
Quality Content
For web publishers, producing relevant, unique content should be the top concern. Advertisers want a website that focuses on a specific issue, such as sports, lifestyle, or motherhood. A reasonable amount of content should be available on the website, with at least 25-30 pages of articles, reviews, or blog posts.
Businesses interested in promoting their services and products on your website want to take advantage of the daily traffic. They also want to know that visitors to your site do not abandon it because you do not provide high-quality, valuable content.
To Contents ↑
Design and functionality
The visual components and layout of the website are the first thing that visitors notice. Your website should be easily navigable. It helps expose visitors to various ads you have on your site.
Consider how different ad serving solutions may affect page load time and latency before making your decision. Another essential consideration is website compatibility with mobile and tablet devices, two of the most popular digital advertising platforms.
Audience
A devoted audience is more valuable than an influx of visitors. Why? Because a loyal audience engages with your content regularly, whereas a one-time surge in numbers is fleeting.
Advertisers value the level of engagement that your audience displays. Advertisers are willing to pay more than once to get their message in front of a highly engaged and loyal group of website visitors and email subscribers.
The value of available ad space rises when an audience's engagement levels can be demonstrated through content comments, email click/response rates, and other interactive signals.
To Contents ↑
How To Sell Ad Space Online On Your Website
1. Programmatic Advertising
Programmatic advertising is the automated buying and selling of online ad space. Programmatic ad exchanges run computerized auctions for digital advertising space, bringing together both parties:
Advertisers seeking internet ad space;

Publishers and website owners selling digital ad space;
This type of advertising revolutionizes the entire ad space selling process. It uses algorithmic software to sell and place digital ads via ad exchange platforms at lightning speed.
Programmatic advertising also merges traffic data and online targeting methods to serve ads more accurately, efficiently, and at scale. Leading to better ROI for advertisers and publishers alike.
To Contents ↑
Here's how programmatic ads work:
A user visits a website.

The website owner auctions off the ad impression (SSP).

Advertisers bid for these impressions (DSP).

The highest bidder wins the ad impression.

Then the ad is served on the website to the user.

The user clicks on the ad and converts.
While the programmatic process may appear complex, there are only two key technologies to understand as a publisher:
Get an Ad Server (Covered Above)

Join an SSP:
SSP or Supply-Side Platform is your access point to a programmatic ad ecosystem. SSPs connect you (the publisher) to the other parts of the automated programmatic advertising ecosystem, including:
DSPs

(Demand Side Platforms, an advertiser's access point)

Ad Networks

(middlemen that list available publisher ad space or "inventory")

Ad Exchanges

(Online marketplaces where advertisers and publishers interact without ad networks)
Suppose you imagine your ad server as a computer. In that case, you can consider an SSP as the "connection" that allows the "computer" to interact with the rest of the programmatic advertising "network."
You don't need to understand exactly how each of these technologies works.
With SSP's you can sell ad spaces via:
RTB

(Real-Time Bidding)

Header Bidding

PMP

(Private Marketplace: only invited advertisers can bid)

Programmatic Direct

(Bypassing auctions and selling at a fixed price to an advertiser)
Each method offers different ways to monetize your website's ad space.
To Contents ↑
2. Ad Networks
In the early days of the modern internet, when online platforms began to appear all over the place, most publishers had few options to earn revenue. Then came ad networks, which expanded website monetization by connecting businesses in need of advertising to publishers looking to generate income online.
How to Choose the Best Ad Network Service?
The demand for moderated ad networks grew as more websites began to appear online. Today there are hundreds of display ad platforms that work with publishers like you. So how do you get ads on your website to earn money? Well, it is simple. You need to choose an ad network that suits your needs and budget. Here's what to look out for:
Always consider the size of the network.

An ad network with 10,000 advertisers will probably campaign better. But you need to choose based on your website's popularity, traffic, and website content.

The quality of the ads

is also crucial since it drives traffic. Your viewers believe that you are responsible for ads shown on your website, so you must ensure that you're comfortable with what's being advertised.

Ad formats

. If you want in-text links, banners, or other ad formats, your Ad Network must have them all.

Terms and Conditions

. Read their terms and conditions before you pay, especially the payment methods and other information: commission, time of payment, fluctuations, etc.

Real-time processing/User experience

. Ads on your website must not damage your user experience. That is why you choose Adsterra because they have native ads that match the context and do not disrupt your website's user interface.
To Contents ↑
About Adsterra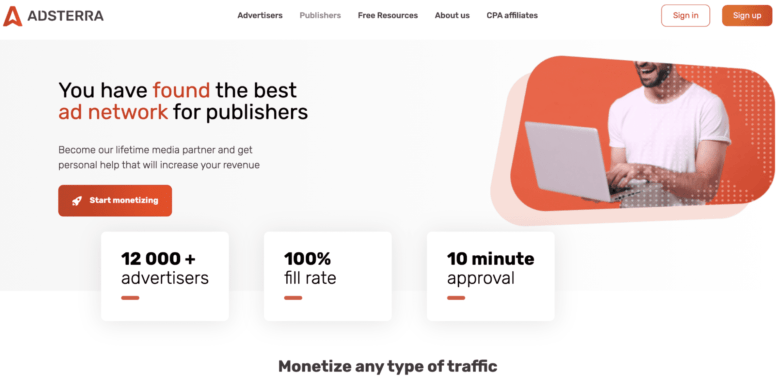 Adsterra is a game-changing display ad platform founded in 2013. Within this short time, over 25 billion ad impressions are being served. Adsterra offers innovative and creative ad ideas to boost your earnings overnight instead of serving annoying adverts that viewers almost instantly close. Adsterra runs about 20K advertising campaigns simultaneously.
To Contents ↑
Features:
Payout Minimums: $5 via Webmoney and Paxum, $100 via PayPal, USDT 100 via Bitcoin, Tether, $1000 via wire transfer.

Lots of direct and reputable advertisers from all verticals: Ecommerce, Games, Apps, VPNs, Subscriptions, Finance, Dating, Sweepstakes, etc. 20K+ campaigns run at a time.

High CPM rates thanks to AI-powered optimization. Adsterra selects and sends you advertising offers that are more likely to convert with maximum bids.
Ad formats that bypass AdBlock and run on all OS, including iOS.

A 3-level security system that protects against malware and viruses.

Bi-weekly payment calendar and a variety of payment options.

5% extra income with Referral Program.
To Contents ↑
3. Direct Ads
Direct ad sales may be an option for a publisher looking to monetize their website. This method eliminates the middleman (ad networks, ad exchanges, and affiliate networks), allowing publishers to contact media buyers directly and earn significantly more money.
The drawback here is that selling ads requires manually locating advertisers and negotiating terms with each of them. This procedure necessitates hiring a dedicated salesperson, which can be very expensive for small and medium-sized publishers.
How To Find And Attract Direct Advertisers
You must find brands willing to work with you in your niche and sell your ad space directly. Check similar blogs in your field to see which businesses are purchasing website advertisements. Finding direct advertisers is a full-fledged sales operation that includes generating leads, cold calling or cold emailing potential partners, and reaching out to introduce themselves and make an offer.
You can increase the appeal of your inventory by providing a media kit to advertisers. It should include site analytics, such as page views and bounce rate, as well as distinct user segments, reach, and engagement, so advertisers can determine whether or not the ad space is appropriate for them.
To Contents ↑
Tools for selling your ad space directly
Managing your own ads is a challenging task. Just getting the ads is not enough. You have to rotate the ads and keep track of them. Here are a few tools that'll help you sell your ad space:
WordPress Plugin Adrotate

It's a simple plugin that automatically rotates the ads on your WordPress site. It could be random ads or ads that you have chosen. With over 500 5-star reviews, your ads will be less likely to be blocked, and they can be optimized for all devices.
To Contents ↑
Google Ad Manager
Google Ad Manager is an ad management platform designed for large publishers with a high volume of direct sales. Ad Manager has granular controls and works with various ad networks and exchanges, including AdSense, Ad Exchange, third-party networks, and third-party exchanges.
They also provide adequate report assistance. There are ad units that have Google-generated tags. The tags will be inserted, and Google will place ads in those locations, allowing you to create ad campaigns. That is a ready-made environment for advertisers looking for leads.
4. Affiliate Marketing
Another simple way for publishers to monetize their websites with ads is through affiliate marketing. Affiliate marketing is when a publisher, blog owner, or business entity agrees to promote a product or service in exchange for a commission. Typically, website owners place affiliate links, banners, and text ads on their sites to convert organic traffic into media buyer referrals.
The ad is usually accompanied by a link and a promotional code, inviting readers to visit the brand's website. The publisher receives a percentage of the sale if users engage with the ad or buy the product.
Affiliates are paid only when a visitor converts to a customer and completes the desired action: form submissions, pre-orders, clicks, or purchases sales.
Several models are used to assess the outcomes:
Generating leads (CPA – Cost per action)

:

typically includes signing up for a free trial, contacting a representative, and so on. In this model, the advertiser does not keep track of conversions or lead quality.

PPS – Pay per sale

: this model is used for a wide range of products and services. Affiliates are paid a commission for each sale generated by their tracking link.

Clicks (CPC – Cost per click)

: affiliates earn when their users click on the link.
To Contents ↑
How to Choose the Best Affiliate Marketing Program
Various platforms suit high-end websites, and some are available for start-up web publishers. You need to consider a few points, like the factors that modify your website and the kind of ads you want. The following guidelines would help you to choose the best platform:
Trust yourself when choosing the ad

: Your content and the niche represented on your website are much more important. So don't make compromises on the ads. If you choose non-contextual ads, your viewers may not enjoy the website as before.

It is good if you are earning enough money based on one affiliate program — but you need to get ahead in the competition. Therefore, do a little digging on your competing websites and the ads running on them. That can give you an idea of better affiliate programs.

Consider your audience

while thinking about ads — advertisements are always annoying if they are irrelevant. If your niche is specific, find an ad that sells something relevant to the content. That way, the audience will be happy to have found some products to their advantage.
To Contents ↑
Criteria for Affiliate Marketing
If you want to do affiliate marketing, your website should meet certain criteria to be able to put ads on your website and get paid:
Traffic

— affiliate marketing will not work on websites with low traffic. You need to reach a standard amount of traffic to run the affiliate marketing ads.

Contact info

— if your website does not contain any contact info, it will be impossible for the affiliate marketing websites to contact you. You need to have proper contact info (at least one linked to email).

Optimized design — the website design is always important whenever it comes to ads. Your design must be able to support different formats.
To Contents ↑
Recommendations For Publishers
We've come to the end of this very short guide, but we still have some important tips for you. If you're looking to sell ad space with any method we explained in the previous paragraph, consider the following best practices:
Mobile-friendly websites rank higher in search results, and the majority of traffic for many advertisers comes from mobile phone users. Visitors are 5 times more likely to abandon your site if it is not mobile-friendly, so maintaining healthy monthly traffic means finetuning your website to meet Google's mobile standards.
To Contents ↑
Writing for SEO is crucial because it is one of the most effective ways to ensure that your content reaches your intended audience. If no one can find your high-quality content, does it exist? Unfortunately, the answer is no. Without organic quality traffic, it will be tough to turn your blog into a profitable business.
To Contents ↑
Sure, writing quality content after thorough keyword research helps SEO and improves user experience. But what if your web pages aren't visible to search engines due to a technical issue? This means no organic traffic and no revenue from visitors. Check out our technical SEO guide.
Final Thoughts
All the methods of monetization listed are optimal for use right away. We hope our guide will assist you in picking the right one. Choose one that is friendly to your website's visitors and doesn't affect their user experience. Also, keep in mind the tone of voice of your site or forum, its design, background, and motto before you place ads on your website.
Seems daunting? Maybe, if you are acting alone. But feasible when you rely on Adsterra. Over 21 000 direct publishers are monetizing their websites and apps with us. Along with transparency and solid CPMs, Adsterra's partner care approach makes it pretty easy to start doing business online! With our Guide to Instant Monetization you can start right now.