Pop ads are a great way to advertise because they have proved to send loads of conversions, especially with a simple flow like subscriptions and installs. Like in this case study, our partner gained an ROI of 315% with Pops and mobile subscriptions. This ad format is relatively simple to use, so you can take advantage of them even if you're new to affiliate marketing or advertising.
But where can you get good pop traffic? Not just traffic, but converting traffic, which is difficult to come by these days. We compared the ad market's top players to find the best pop ads platform. And as a bonus, we added a little guide on how to choose the best pop network.
What is a pop ad network?
Pop advertising networks are ad networks that offer mainly Popunder traffic to advertisers and affiliates. This type of ad network is now available almost everywhere, providing advertisers with a nearly endless supply of pop ad inventory and traffic.
Pop ads are classified into Popups and Popunders. Popups appear when a new window opens on top of the current page. Popunders load under the current webpage and are only visible when the current window is closed. Many top ad networks use these formats because they are very popular and work for many types of offers, including Lead Generation, Pin Submits, Sweepstakes, Mobile Apps, Software, and iGaming.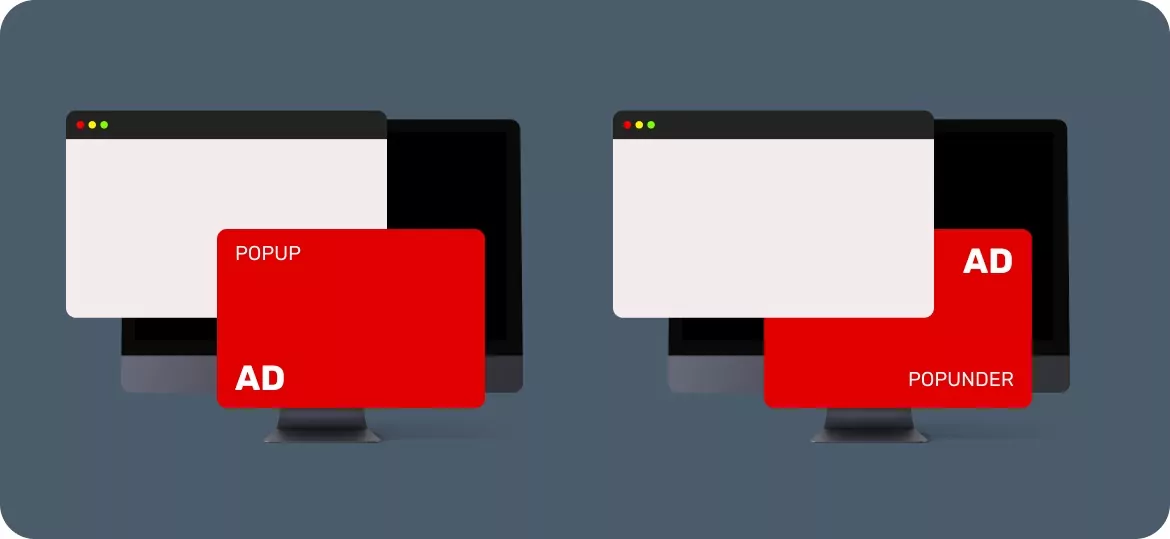 Pop ads are prevalent with affiliate marketers because it is simple to launch a campaign quickly and begin seeing results. Pop traffic also has a lower operating cost than other formats and a low entry barrier.
To Contents ↑
How to choose the right pop ad networks
We cannot overstate the importance of choosing the right pop ad network before considering what your landing pages should look like. We could have told you to forget your fears, ignore your doubts, and quickly join us here at Adsterra. But we want you to arrive at this decision yourself, after doing your research, so you'll give yourself some credit when you see positive results. In any case, we'll review factors to consider when picking a pop ad network.
Check affiliate marketing forums skeptically
Here you'll learn more details about the ad networks you're investigating from people who use it. Again, some people work for affiliate networks, and others may be irritated if their campaigns did not perform well that week. So, think when considering a review. And also, people on forums have varying budgets, experiences, and approaches. They won't always discover the full potential of these networks.
You can contact the ad network's representative via the forums or directly go to customer support. They can tell you what kinds of offers are doing well in their network and other details.
To Contents ↑
How do you compare pop ad networks?
Trying out an ad network yourself is often the best way to learn how it works. This is the only way to determine whether an ad network has a niche with a particularly high ROI. Some ad networks let you start with a small budget.
As with any comparison, we recommend listing the pros and cons of what each network has to offer while you're testing them out.
By traffic volume
We understand that the more traffic volume available, the more opportunities for you to run successful campaigns. That's because every bit of traffic represents a potential lead that could be converted into a customer and ultimately return some commission to you.
So how much traffic should an ad network provide? When you visit the homepage of any ad network, you'll see several key statistics highlighting the platform's traffic volume.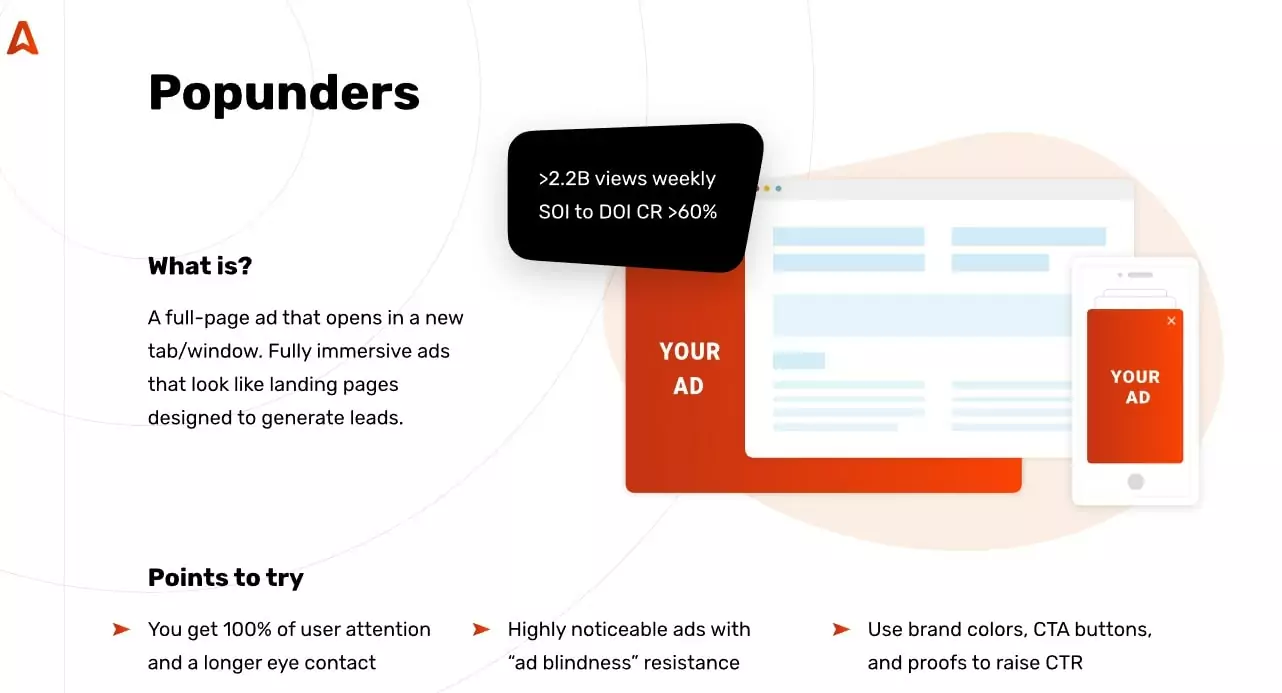 To Contents ↑
How does the ad network combat fraudulent bots?
Ad fraud bots are a concern for traffic ad networks, which is why some ad platforms try to prevent them from ruining your marketing campaigns. However, not all ad networks use bot filtering, which means you may be paying more for clicks and impressions with no chance of conversions. Nobody wants that.
By available GEOs — where do pop ads convert the best?
Each campaign is unique, but there are general trends to follow. If you're wondering which GEOs work best with Popunder affiliate marketing campaigns, you will first need to check with a classic segmentation.
Tier 1
This is the most expensive zone for buying traffic, but it frequently has high conversion rates. This tier is for seasoned affiliate marketers who understand how to optimize their campaigns and when to stop a failing campaign. But that takes time and practice. The most important GEOs regarding the campaign budget are US, UK, IT, DE, CA, AU.
Tier 2
The second tier of GEOs consists of countries that are generally less expensive than Tier 1. Tier 2 countries include AT, BE, CY, CZ, HU, FR, and many others.
Tier 3
When running your campaigns, consider the volume of traffic you use for each of these tiers, as it may be more profitable to run in a cheaper GEO with higher traffic volume. Beginners should start with this tier because they'll lose less money during the affiliate marketing or Popunder campaign learning curve. Tier 3 countries include the following: IN, HU, KR, MX, PL, and others.
Please note that every ad network applies its segmentation as traffic is unique, and sometimes Tier-3 traffic is paid even higher than Tier-1. Especially when it comes to social traffic.
By pop traffic prices
Money makes the world go round, and you want to get the most profitable traffic for your money. So it's crucial to discuss how much you should pay for pop traffic.
CPM and CPA are the two most popular cost models when purchasing pop traffic. Still, not everyone knows how much to pay for pop traffic. Depending on your targeting options, you can find minimal bids for your Popunder CPM campaign, but some ad networks will charge you more than others.
Traffic that costs around $0.2 per view could be considered normal. Still, there is no guarantee that more expensive traffic will perform better. It might only imply that you are aiming for pricey Tier 1 GEOs or popular specific keywords. So if you want to see a return on your investment, include that in your campaign budget.
The average bid can differ by GEOs, so confirming that your bid is appropriate is essential. You can always use the recommended bid that the ad network suggests (if they have such a feature).
Go to the network's traffic calculator (or Traffic Estimator when on the Adsterra platform); you should be able to customize it for each country, source, device type, and ad format (like pop). You can then tailor your campaigns to a particular audience. Your chances of success with your campaigns increase with campaign optimization.

Additionally, be careful when signing up for some ad networks, as some require minimum deposits of up to $1000.
To Contents ↑
By pop traffic targeting methods
The audience you'll reach is determined by the targeting options offered by an ad network. The likelihood of a positive ROI increases with the level of targeting. But overly specific targeting can result in a tiny member base in a niche, which is also unprofitable.
Therefore, it all comes down to balance. You should pick an ad network that enables you to identify a target market for your affiliate campaigns.
What targeting and filtering options should check for? Device and OS targeting, GEO targeting, Frequency filtering, Day-parting, and other options are also available.
By optimization options
Some ad networks will help you optimize your affiliate campaigns more than others. While some self-serve ad networks take the self-serve part literally and provide little assistance to their clients, others go out of their way to help in any way they can.
So, consider that when selecting your ad network based on how much assistance you anticipate needing. You might need help finding an affiliate ad tracker or simply want to learn more about the optimization choices that would work best for you. You can find the solution with a good pop ad network.
To Contents ↑
By scaling opportunities
Consider this: you created great creatives, established and fine-tuned targeting, devised a payout, and added Whitelists. It goes well, and you get 30-40 leads per day with a 100% ROI. It's time to increase your profits! You decide to increase your advertising budget or add more creatives to entice those who did not click on your ads. Done!
However, you will receive the same 30 leads the following day and 20 leads and a 50% ROI the next day. The challenge is to scale up your CPA campaign while achieving better results and avoiding performance drops.
But what if your ad network can't help you accomplish this? A good pop ad network should be able to give you the information you need to scale up your CPA campaigns rapidly.
To Contents ↑
By optimization methods
Check the ad network's optimization tools to help you run your campaigns more efficiently and affordably. You can earn money with less effort by automating some of your affiliate marketing campaigns, just like other affiliates.
Some of these tools can be:
Custom bidding: when you selectively increase or decrease a bid for best-performing and underperforming placement. As an outcome: you distribute budgets to attract maximum conversions from robust sources and leave a little money for average performers just in case they hit one day.
Pricing tokens. These helpful tokens added to a landing page URL help avoid overspending and react to sudden traffic drops faster.
To Contents ↑
By affiliate ad tracking options
Affiliate ad tracking shows you if your marketing efforts are profitable. However, do all pop ad networks allow it? The majority of ad networks do permit affiliate ad tracking software. One way to get the best tracking for your campaigns is to invest in a tracker for your campaigns. Some ad networks have basic tracking built-in, while others outsource it to a third party. Here's a guide to S2S tracking on our blog.
By campaign approval time
We know you want to see your new campaigns perform as soon as possible to be able to tweak and adjust them to perform even better. Therefore, picking an ad network that approves your campaign quickly is crucial.
However, the fun would also end if a campaign that had been approved and was earning a good ROI suddenly got flagged for a compliance issue or an issue with your account. But Adsterra offers a quick campaign approval process making it easier for you to return to campaign optimization.
By onboarding procedure
Even if you are an experienced affiliate marketer or advertiser, there may be some ad networks you haven't tried yet. A good onboarding process is crucial. After all, when you are just starting out, things like being able to get help with all the new acronyms or metrics can make or break your experience. Learn how Adsterra onboarding works: advertising hacks in one video tour.
Everybody has different business needs, and those needs should be respected. So look for a pop ad network that has a special onboarding procedure.
To Contents ↑
By customer support efficiency
An ad network with strong support staff is better than any without one. For this reason, we recommend reviewing this list of qualities a top-notch customer support team should have:
Knowledge of affiliate marketing,
Rapid reaction time,
Live support staff.
You want a quick response from customer service and to be able to trust them. Consider your support needs when choosing a pop ad network.
By knowledge base availability
Not knowing the workarounds of a platform or its tips to ensure you run a successful campaign can be an early disappointment. The lack of an adequate knowledge base and user guides can halt a campaign in its tracks. However, picking an advertising network with well-documented Help can save you time and money. You won't have to rely on a manager or the help team to tune your campaigns.
By individualized solutions
Every affiliate marketing campaign is unique; it can be shaped by everything from very general considerations like the niche you select to minute adjustments that make your campaigns uniquely yours.
Your recipe for success is the specific targeting options you decide on. Contact the managers for assistance with your campaigns. They might be able to provide you with a solution that is specially designed to increase the revenue from your campaigns. This could take the form of whitelists, adjustments to the targeting options for your campaign, or even advice on a different direction to take your campaign to reach more customers.
To Contents ↑
10 best pop ads networks in 2023
1. Adsterra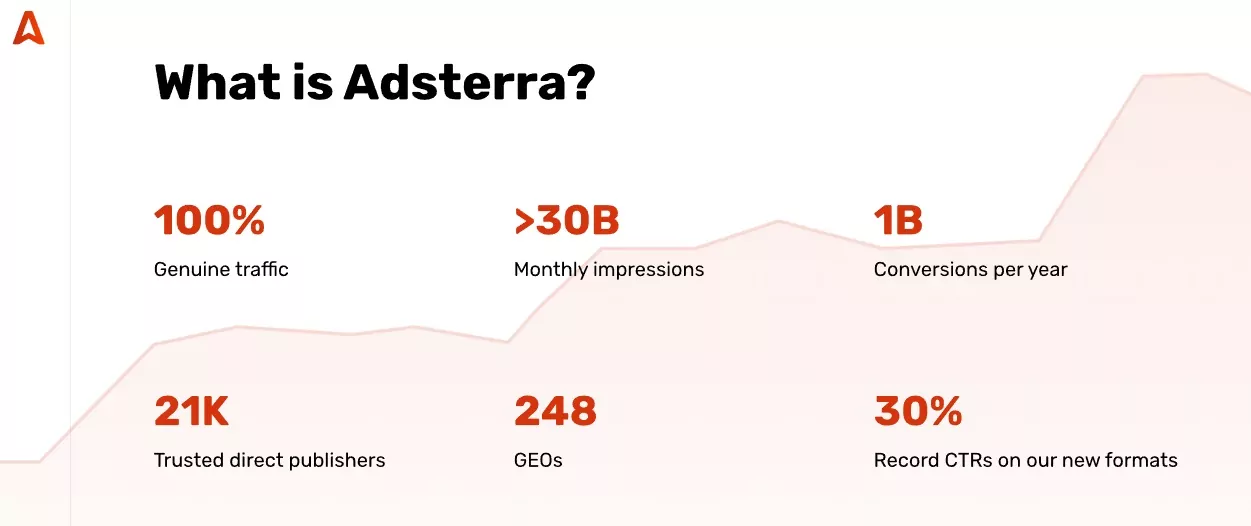 Adsterra is a global advertising network that spans over 240 GEOs and displays up to 2.2 billion pop ad impressions weekly. With over 21K of direct unique traffic sources, almost any type of ad offer can reach the right audience.
Advertisers and affiliates can apply over 20+ targeting settings to fine-tune traffic segments. The platform is truly versatile, opening opportunities for both scaling and optimizing any campaign. The platform is integrated with the most robust trackers, so it'll be easier to monitor spendings and campaigns' efficiency.
Top verticals on Pops: Utilities and Software, iGaming, Sweepstakes, Ecommerce and Sales, Games, Browser Extensions, Dating, and others.
Under the hood, advertisers open AI-powered tools like Traffic Estimator that can assess the current competition for traffic and help pick the optimal bid. Transparency is key to a good partnership, thus Adsterra displays its current traffic amounts (the Traffic Chart tab) and gives helpful clues on which offers are trending (the Offers Wishlist tab).
By focusing on desktop and mobile users and supporting more than 21,000 direct publishers, Adsterra can provide coverage for almost all countries, helping you reach farther than your rivals.
To Contents ↑
2. Adport.io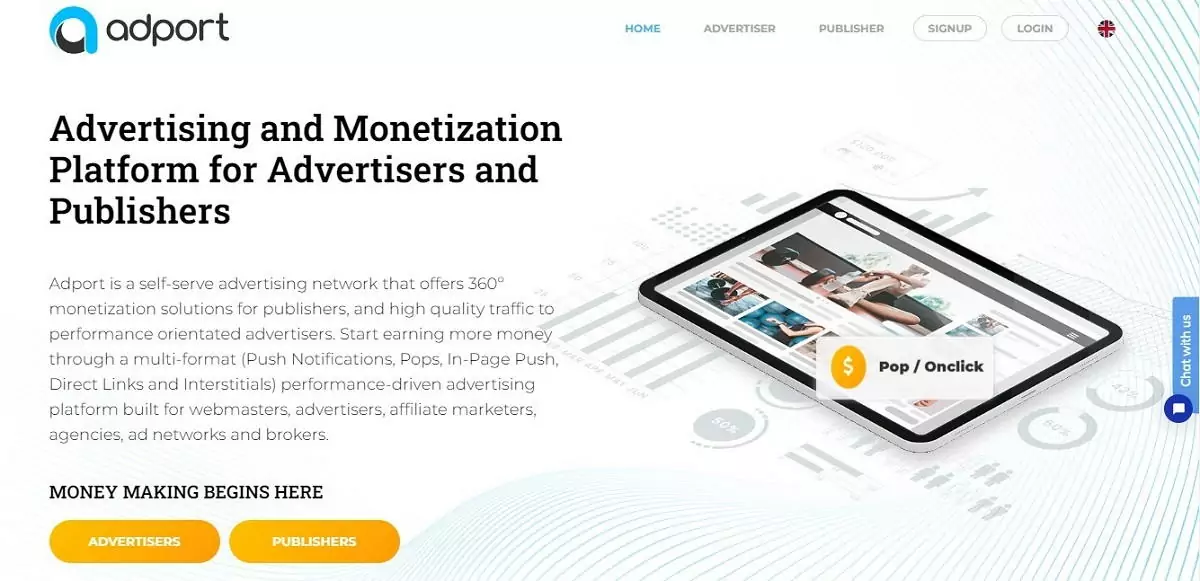 Adport.io offers multi-ad formats that can help you reach a global audience and boost revenue. Publishers and advertisers love this platform because they automate ad optimizations, saving you time. They offer multiple convenient payment options. Adport places ads in over 220 GEO-locations, making global reach easy.
Their targeting options include region, OS, device, etc. Adport also has tools to filter out bots to help you maximize organic profits. Their customer support is also great.
To Contents ↑
3. Adcash
Adcash works with 100 RTB partners and receives 10 billion ad requests daily. It's one of the top ad networks for desktop and mobile Popunder ads, which attract heavy traffic.
The pop ad network tracks competitive pricing and unique performance outcomes to ensure your ad campaign generates significant revenue. This ad network uses Global Postback URL (S2S) to track top-performing ads by token count. Advertisers can use the CPA target to improve ROI.
To Contents ↑
4. Zeropark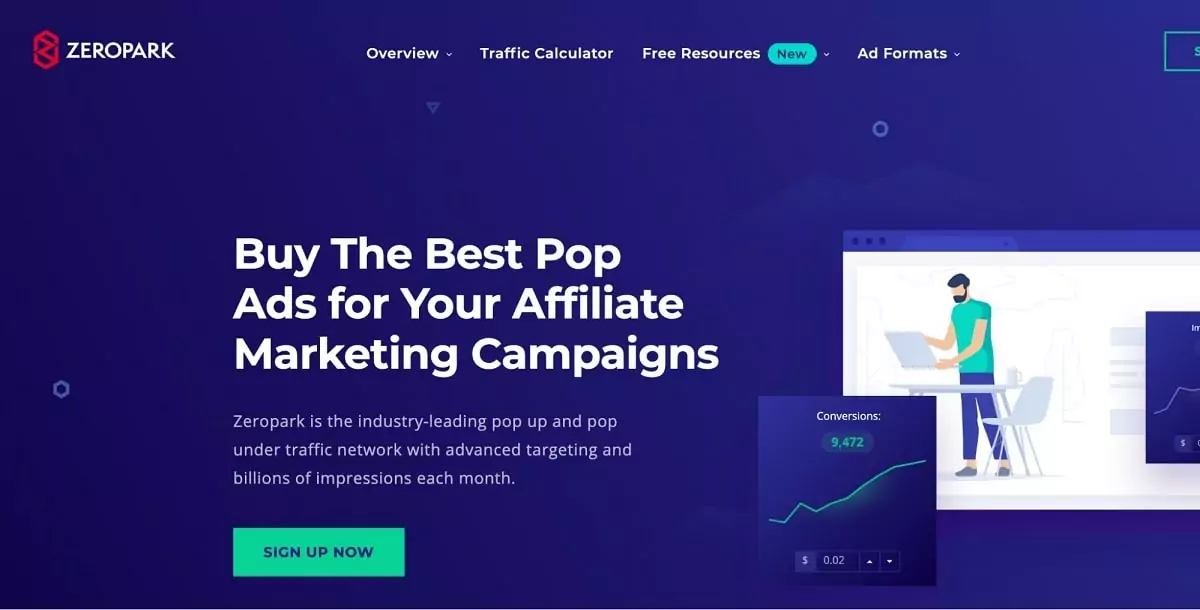 Since 2011, affiliate and performance marketers have turned to Zeropark as one of the preferred advertising platforms. Zeropark is used by thousands of advertisers because of its vast inventory size and user-friendly interface.
They offer 60+ billion pop ad impressions per month from all over the world. Every niche and vertical can be targeted, but the most popular options are Downloads, E-commerce, iGaming & Sports, Surveys & Sweepstakes, and Finance.
To Contents ↑
5. PropellerAds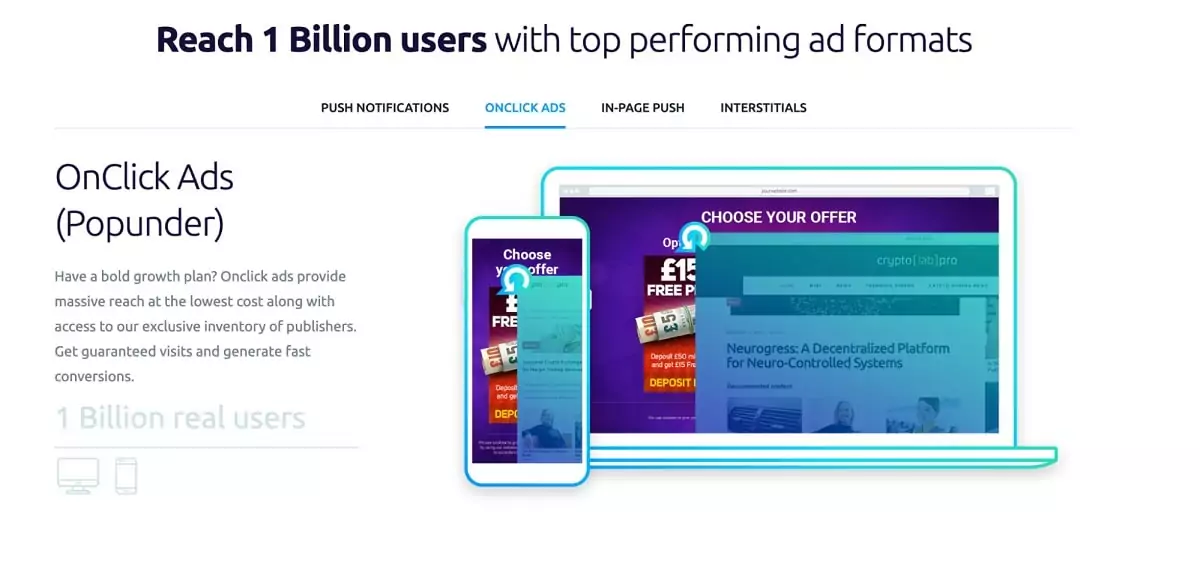 PropellerAds works with Finance, Dating, E-commerce, Betting, Nutra, Sweepstakes, Games, Finance, iGaming, etc. Desktop, mobile, in-app, and display ads are available. PropellerAds supports newcomers with low deposits and bids; they don't require heavy website traffic. It's a credible platform for advertisers, but only Platinum advertisers get account managers.
To Contents ↑
6. RichAds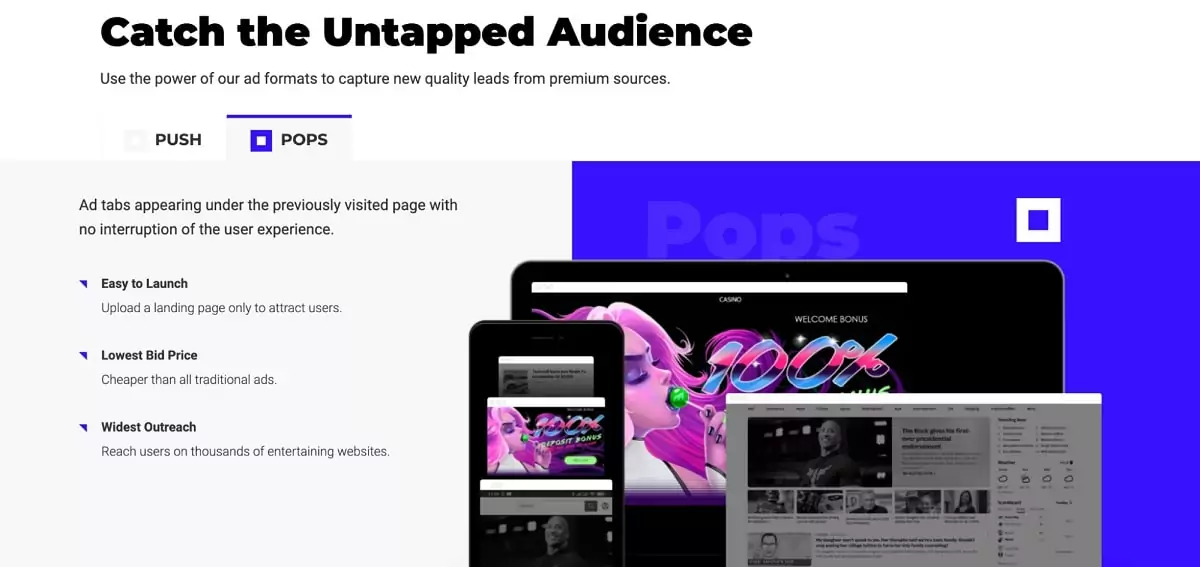 RichAds focuses on the advanced needs of affiliate marketers worldwide and provides high-quality traffic. They can generate conversions for any vertical with above $0.3 CPM on Premium sources, which covers 220 countries.
As a RichAds affiliate, you'll have access to offers and features that help you convert pop traffic efficiently. This ad network offers source sampling, micro bidding, and automated optimization.
To Contents ↑
7. AdMaven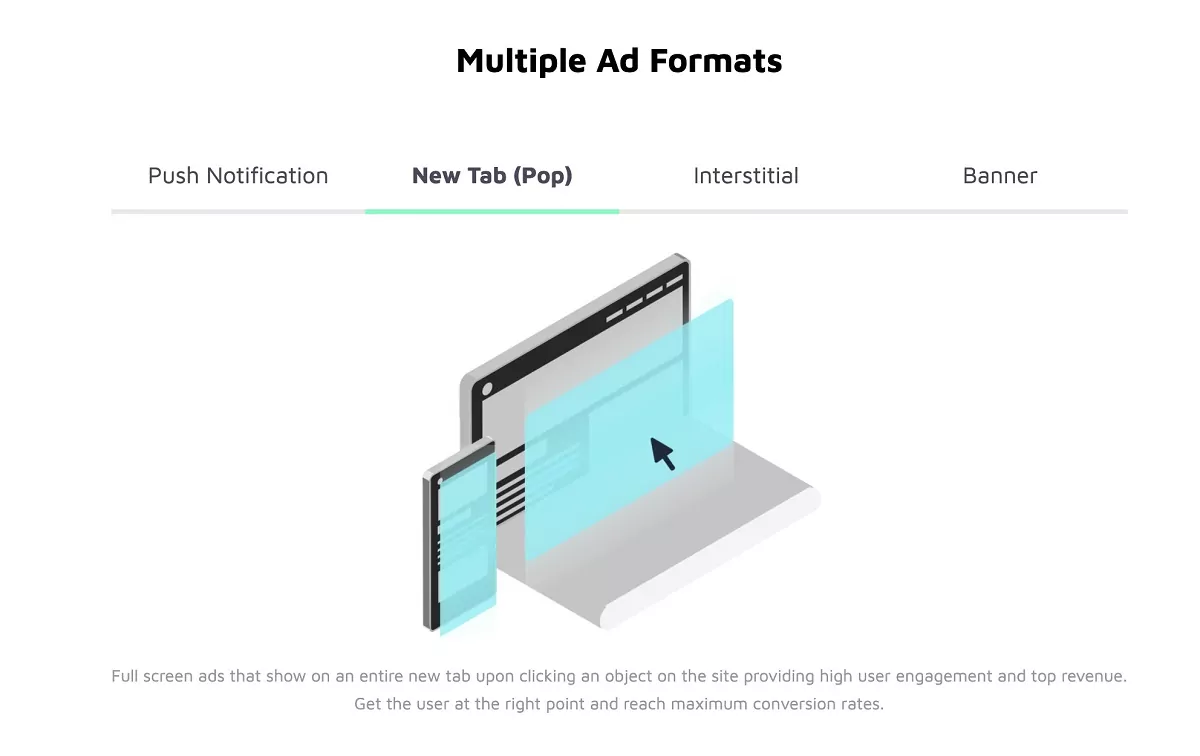 AdMaven offers Popunder ads, banners, new tab, lightbox, slider, interstitial, and more. AdMaven gives advertisers 500 million full-screen ad impressions daily to promote their brands.
Even though this pop ad network is old, its features are more modern than some more recent ad networks. It also has a sophisticated self-service platform. You can launch campaigns in minutes using high-quality targeting features to reach the right audience.
To Contents ↑
8. TrafficStars

TrafficStars is a self-serve pop ad network with high-converting traffic. It benefits dating affiliates by focusing on members-only traffic and offering high-quality ad placements. You can receive good traffic from low payout countries and Tier 1 GEOs as an advertiser. This network creates lookalike audiences to find the best ads via an audience-targeting algorithm.
It also offers advanced tools for tracking ad performance and revenue. However, its traffic estimators can be inaccurate, making it difficult for newcomers.
To Contents ↑
9. Ezmob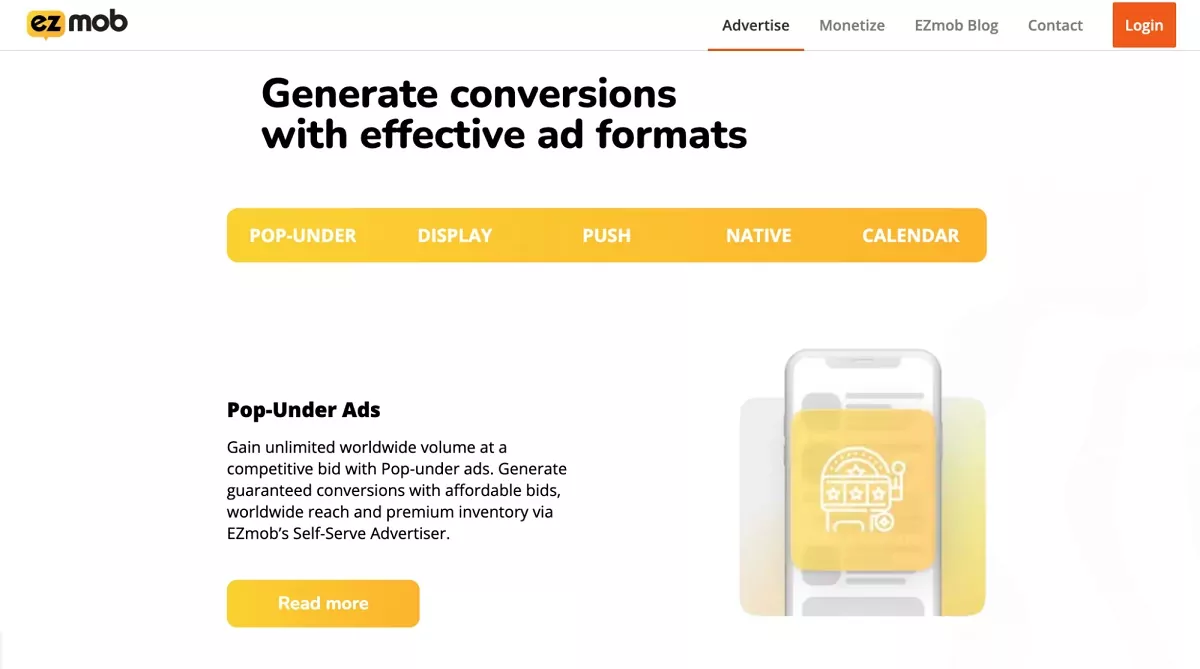 Ezmob is a self-serve mobile ad network offering pop traffic that generates high ROI. You can get quality traffic with minimum CPM bid rates or low CPV values. This network offers targeting by GEO, location, OS, device, brands, and carriers to serve the right ads to the right audience.
Ezmob also supports desktop and mobile traffic, so advertisers can get significant results from both. It automatically adjusts bids while maintaining or lowering the cost metric. Ezmob supports AV Apps, iGaming, Sweeps, Finance, Dating, Sports, E-commerce, and Gaming.
To Contents ↑
10. ActiveRevenue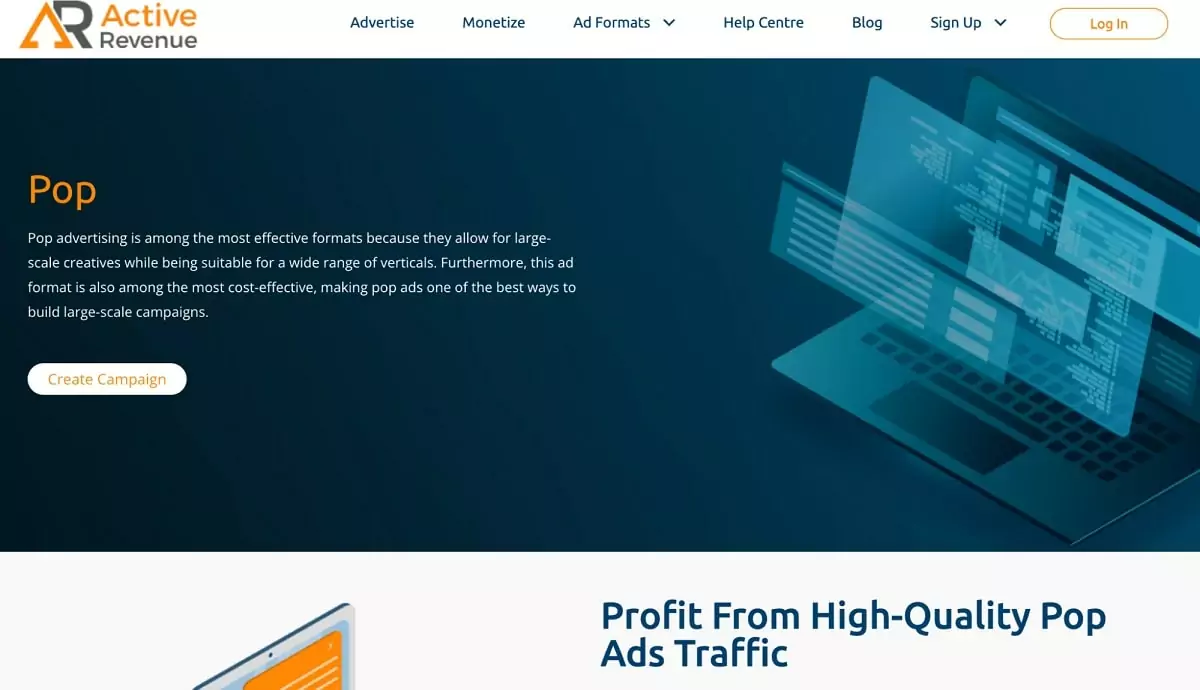 ActiveRevenue is a self-served advertising network, promising high-performing ad units with multiple targeting options and optimizing capabilities. You can reach your audience by using carriers, states, OS, browsers, and devices in addition to advanced optimization options with ActiveRevenue's range of ad formats, including POP.
ActiveRevenue has an anti-fraud detection system to guarantee that every campaign receives traffic of the highest caliber. They excel at managing client campaigns and detest fraud ferociously.
To Contents ↑
Bonus mentions
These ad networks didn't make our top 10 lists, but they're worth your consideration.
TwinRed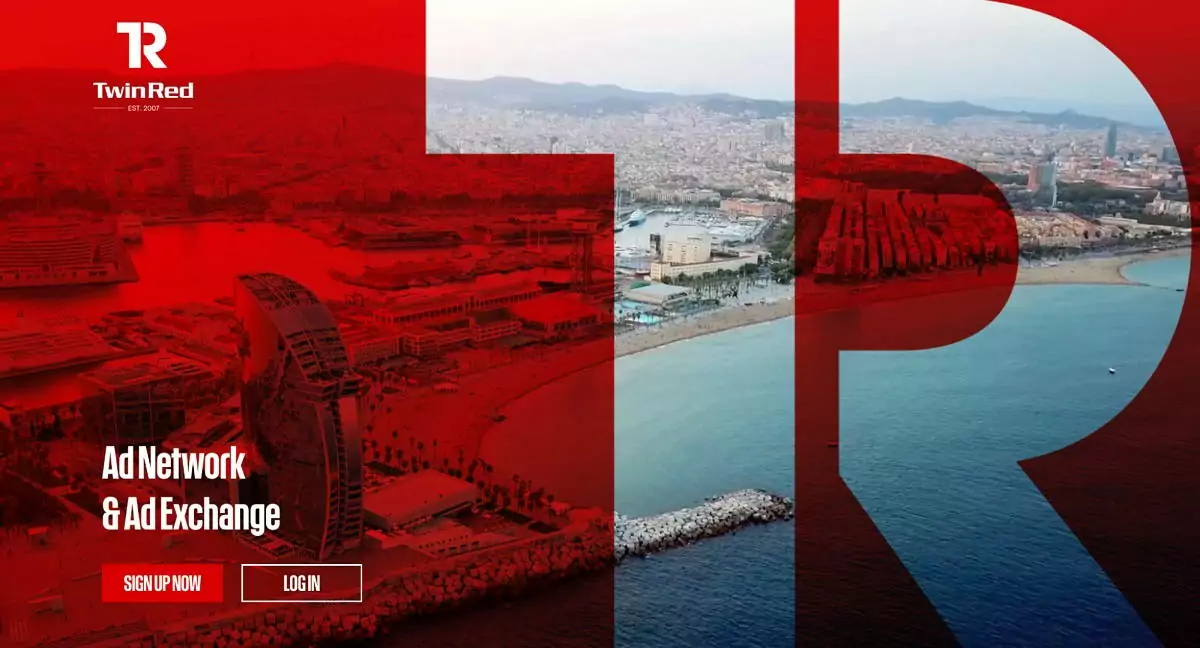 TwinRed is a self-serve dating Popunder ad network with a global approach. Due to the premium audience, click-through rates can generate significant revenue, especially in Tier 1 and Tier 2 GEOs.
Some advertisers prefer this network because it supports interstitial ads similar to Popunders.
This network performs well and pays well for top-tier GEOs. Still, you can also choose specific ad placements outside these tiers. It converts well with Dating, Games, and VOD ads.
To Contents ↑
HillTopAds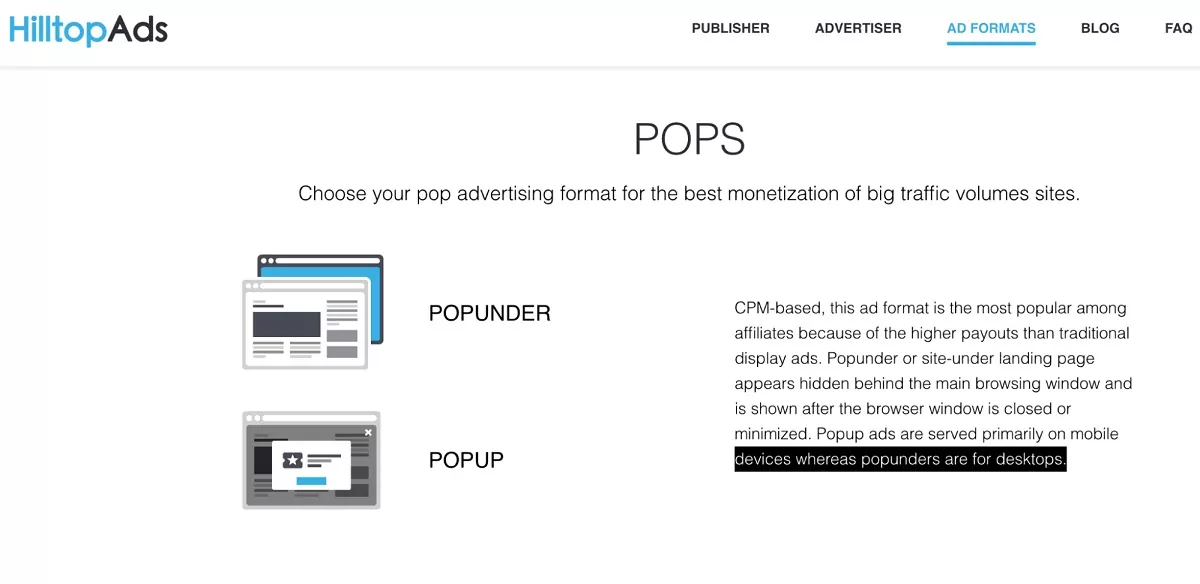 HillTopAds helps publishers and advertisers launch and optimize ad campaigns using a smart self-service platform. Advertisers can get more functionalities and tools by signing up for its premium advertisers' feature, which includes advanced targeting and anti-AdBlock services.
Publishers can use its unique ad server solution to display the best-converting ads automatically and remove non-beneficial ads from their ad feed.
To Contents ↑
Some tips for using pop traffic
Here are some ways to work with pop traffic:
Divide your ad campaigns by GEO and pay attention to the time of day when you'll make the most money in each area you're targeting (e.g., North America).
Split testing landing pages for advertisers and the advertiser's own pre-landing page can show what works best based on how visitors behave. Don't annoy users with Popup ads they don't want or need.
Don't change anything about your landing pages, GEO, or time intervals without looking at the data first. This could hurt your campaign performance, costing you more money if they don't work than if you just tried them out and wasted money.
Consider trying out different designs so you can be creative and find out what works best to get people to buy.
To Contents ↑
Whitelist and Blacklist
You can save money by tracking how well your campaigns do in different zones. If certain GEOs aren't getting the results expected or making enough money for your pop campaign, block it and focus on other areas that are doing better. This way, you don't waste too much time on one area when many others need just as much care.
Be cautious with Popups
You should remember that people may not be interested in an ad that prevents them from viewing the page they want. Popup ads are classified as an interruptive type of advertisement because they obstruct the visitor's path and confront them before they reach the desired page.
Conclusion
You choose when to run your campaigns, when to take a break, how much money to invest in your next campaign, and how much money to set aside for your upcoming vacation. Therefore, you should pick an ad network that will enable you to get the most out of your campaigns and beat your competitors to more convertible leads.
With the right tools and information, running these pop offers is simple. By accounting for GEO, device, operating system, and browser type, you can ensure that your ads are highly targeted to an audience that will respond to your offer. You must also pick the appropriate cost model for your campaign and establish frequency limits to avoid overspending and losing your audience.