Statistics show that Facebook is the largest social media platform, with 2.9 billion monthly active users. And it provides you with ample opportunities to earn money. Whether you're a marketer, content creator, business owner, affiliate, or simple user — you can use the potential of the FB network to profit from it.
In this article we will help you understand how to make money on Facebook, give you some tips and highlight some cases.
What do you need to do first?
You need to be persistent and to be sure that it's worth starting. The entry level for FB is higher than on other platforms, so to start monetizing Facebook you need to work and not wait for a miracle to happen.
If you have a hyped Instagram account, it will be a good start point and will help you in promoting your FB page. You should check buzz and engagement on your profile. Because Instagram is part of the Meta group, many people link their Facebook and Instagram accounts and that makes your life easier when you need subscriptions.
After your followers join your pages it would be great to interact with them. This would positively affect your experience in FB monetization.
You can read more about Instagram monetization in our article: "Affiliate Marketing With IG – a How-To Guide on Instagram Monetization."
To Contents ↑
Build Your Audience
To start building your audience, you need to understand who your client is. Think about people who might be interested in your products or services and create 3–4 customer personas. This way you can check if you have chosen the right target audience.
Here are some useful tips that will help you to build your audience:
Add all necessary information on your page (business information, links to other social media pages, and so on);
Invite family, friends, colleagues, and other people to like your page;
Produce quality content;
Use your website to promote your FB page;
Use paid advertising — FB divides the audience into three types:
Saved audience. If you choose users based on their interests, age and other information.
Custom audience. If you choose users based on people you have engaged with your business.
Lookalike audience. If you choose users based on their similarities to your current clients.
Interact with your followers;
Boost your posts.
To Contents ↑
Level up your knowledge
You need to become an expert in your area of interest. You should make great posts with useful links, images, and updates. The main point of your Facebook fan page is to make creative, useful, and interesting content to your followers.
When people like your content — they will respect you as a person and as an expert later. When you create trustful relations with your audience, they would be glad to buy something from you.
If you are planning to drive traffic from Facebook to your website or other sources, you should consider starting your path with Adsterra. You can read this more detailed article: "How To Monetize With Affiliate Marketing On Facebook."
Or
To Contents ↑
Check your Facebook monetization eligibility
Today, Facebook offers a number of ways to monetize your content but there are certain rules of the platform that you should follow.
To start earning money on Facebook you need to:
Moreover, to start monetizing Facebook page you must have more than 1,000 followers and have to meet one of following criteria:
Post engagements — 15,000 over the last 60 days;
Minutes viewed — 180,000 over the last 60 days;
1 minute views — 30,000 for 3 minute videos over the last 60 days.
However, you still can use FB traffic to monetize a website or a landing page.
To Contents ↑
10+ proven ways to make money on Facebook
There are a lot of ways to make money on Facebook. Starting from advanced ways to earn money like affiliate marketing and ending with direct sales from your Facebook fan page. We have chosen the most profitable approaches for our list.
To Contents ↑
1. Monetize with Adsterra Direct Link
Adsterra Direct Link allows you to turn a profit from social traffic. In simple words, it is a URL that contains thousands of high-paying ads and can be applied to texts, images, and GIFs. This link leads to a publisher's landing page or website.
However, you should keep in mind that there are some important rules for placing Direct Links. You may want to read our guide on "How To Make Money on Facebook Traffic With Direct Link" first.
To start making money with Facebook traffic you need to follow these easy steps:
Get code of Adsterra Direct Link;
Create landing page for Facebook traffic;
Launch a campaign.
If you're sure this way of making money on Facebook is just for you, you can register with Adsterra and practice on the go right away.
To Contents ↑
2. Monetize with Adsterra Popunder ads
The other way of monetizing your traffic are Popunder ads. We wrote what are Popunder ads and in which verticals they work best in our article: "What Are Popunder Ads & How Does It Work?"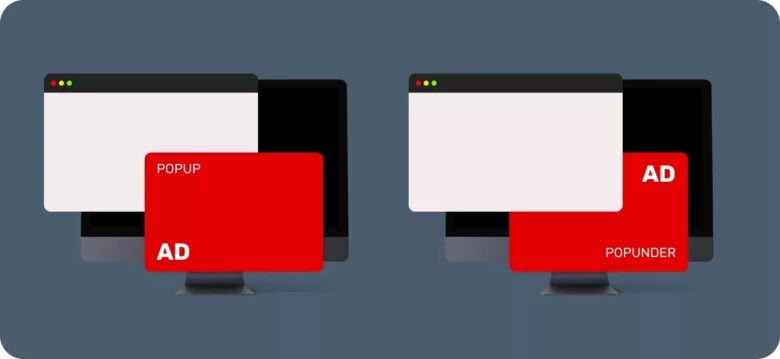 To place a Popunder on your website you need to follow these 3 simple steps:
Apply for an Adsterra Popunder code or script;
Get and copy your Adsterra Popunder ad code;
Put a Popunder on your website;
Lead Facebook traffic to your website.
To get more specific details about using Popunder ads we offer you an article by our expert Victoria from Publishers Support — "​​Sell Popunder Traffic Like a Pro: Your Guide to Popunder monetization in 2022."
To Contents ↑
3. Monetize with Adsterra Social Bar
It is an innovative ad format for desktop or mobile traffic. Social Bar is an easy-to-install display format that embraces several visual designs.
On your website Social Bar will be shown in a format of friendly notifications, icons, widgets, or custom lead forms. Moreover, Social Bar doesn't depend on browser subscriptions and will be seen for all your visitors and will work on all browsers and OS.
To install a Social Bar on your website you just need to:
Get Social Bar Code;
Put Social Bar scripts on your website;
Start monetizing your website.
What about Facebook? Here is the general scheme:
You need a website or landing page with an advertising code;
Then, in your FB group, you make a post with a link to the landing page. (Your task is to interest your audience);
Your FB audience visits your landing page and sees your Social Bar ads;
This way you can earn extra money using your FB and your website with ads;
Note: Adsterra's ads appear only on your website (or Direct Link application)
Also, remember that you can't put advertising links directly in your FB or your Instagram bio — you will get banned immediately.
If you want to read more about Adsterra Social Bar, we recommend you look through these helpful articles:
To Contents ↑
4. Create videos with in-stream ads
This is a great way of monetization for content creators with a large audience. When a follower likes your videos, it is more likely he will watch them till the end and will not skip your ad.
In-stream ads allow you to insert video or image ads before, during, and after your videos or during your live streams. There are few limitations for in-stream ads:
In-stream ads are shown only to mobile users;
In-stream ads appear only in certain categories (on-demand video from publishers & creators, live-stream video from Facebook partners).
The criteria for creators and publishers to use in-stream ads are:
Eligible country;
30,000 video views in the last 60 days;
10,000 followers.
To Contents ↑
5. Add a paid subscription to your page
Another great feature of FB monetization is a subscription-based model. Important factor in using this model is that you must have loyal followers and clients who are willing to pay for subscription to your page. This type of monetization suits brands and creators with a sizable audience and allows them to encourage fans with discounts and exclusive content.
6. Collaborate with brands
Collaboration allows content creators to increase the ad profits and opens up new opportunities. This is a win-win strategy because it allows companies to raise their brand awareness and lets you earn extra money. However, you should collaborate only with brands you like and trust. After all, it takes years to build a good reputation and five minutes to ruin it.
7. Get monetary rewards for meeting certain goals
Facebook decided to push back against users simply sharing TikTok posts, and made emphasis on organic video content. Content creators can make videos specifically for the platform and participate in different challenges and reach certain goals. Creators and influencers can unlock monetary rewards up to $4,000. For example, for generating a certain number of views on Facebook Reel and so on.
8. Run paid events online
They can be scheduled, ran, and set up through your page. This type of monetization is great for creators and business moving in-person events.
To start using paid events you should enable online paid events on your page. After that, create a new event and choose "Paid" option in the Events tab. Fill out the all necessary information such as the price, topic, and hosts.
Also, remember that your page must meet Facebook monetization criteria.
9. Drive visitors to your online store
If you have a store on any eCommerce platform, you can direct shoppers from your Facebook page. This is a great option if you have a small business on Facebook because it will allow you to capture customers with shoppable ads or call to actions. Also, you would be able to turn shoppable posts into paid ads and drive more traffic.
To get started, you need to add your products and relevant links in the Catalog Manager. Also, you can give links to products during live streams.
10. Sell items on Facebook marketplace or in buy-and-sell groups
You can earn money by placing your goods and services on the Facebook Marketplace. Also, there are a lot of buy-and-sell groups, so you can make posts there and try to sell your goods.
To start selling items on Facebook Marketplace, you should become familiar with Facebook Community Standards.
It is forbidden to sell the following items:
Alcohol, tobacco products, potent drugs, and weapons;
Animals;
Healthcare items;
Event tickets and gift cards;
Unsafe supplements;
Adult products;
You can have a look at the complete list of prohibited items on this page.
Moreover, there are restrictions for content in the ads, such as:
It should not contain discrimination, propaganda of crimes, and incite violence and it should not mislead users.
Commercial ads may not advertise illegal and prohibited activities.
The ad must contain a product (entertainment or informational content is not allowed).
It is forbidden to advertise services.
To Contents ↑
11. Sell products right from your Facebook fan page
If you have a fan page with valuable and interesting content, you can use it to sell goods. You can add Facebook advertising to increase your sales.
To start selling products on your FB fan page you need to:
Set up accounts and check compliance;
Create a FB business page;
Set up Commerce Manager;
Evaluate your options for selling on FB
Add products to your catalog;
Market your products for FB shop success.
Also, you should consider creating product listings that will attract potential customers. High-quality product images and detailed descriptions are more likely to increase your conversion rate. Besides, we suggest you giving all the necessary information about products such as size and weight.
To Contents ↑
12. Manage Facebook groups in your niche
Facebook groups with focus on sales have little value. But they are useful in informing people about your product.
These groups work best for those who sell informational products. They will be a great solution if you provide paid coaching or sell courses. They will help your clients to come together and you can provide them with useful content.
Creating and managing FB group in your niche will allow you to:
Find new customers and collaborate with other coaches;
Connect, entertain and teach;
Engage and build connections;
Build an audience;
Create a community;
But before creating your own group, we suggest that you have a look at other similar groups and leverage other people's audiences. This way you would understand who is your ideal client and understand how to connect with your potential clients.
To Contents ↑
Case studies
There are many cases of Facebook monetization. But as a display ad network we are interested in showing you cases that are related to traffic monetization.
This case of our partner publisher Meng Sokseny shows how you can earn more than $2,000 per month with Adsterra on paid traffic. When he started in January he had earned $400 and three months later he reached $2,900.
Meng Sokseny used several niches for content creation that include Lifestyle & Health, Mystery, and others. He had traffic only from his country and targeted only local audiences. To drive social traffic to a website, Meng used Social Bar.
The blogger made several Facebook fan pages and groups to promote his articles. After that he started reposting content from similar groups and pages adding his website links. Meng asked his friends to make repost and comments. Also, he joined groups in similar niches and shared his posts there and commented on most views asking people to visit his page.
To Contents ↑
This is another case of how to earn money on Facebook with free traffic from our partner publisher Waseem Afzal. He monetizes his blogging activity writing about sports with Adsterra.
He gets traffic from social media websites, and Facebook is on the top of the list. He finds public groups about cricket and shares his articles there. Moreover, he comments on posts of other people about cricket and invites them to his blog.
Additionally, he makes short Facebook posts with links to his blog. All above allows to drive traffic to Waseem's website.
To Contents ↑
Conclusion
In conclusion, we would like to say that you can choose any comfortable way of monetizing your Facebook traffic. We offer you to try all the methods of monetization and find the one that suits you best.
Working with Adsterra will allow you to start monetizing your Facebook today, and our team will accompany you every step of the way!