Facebook is the world's largest social media platform, with roughly 3 billion monthly active users, according to Statista. This massive social network presents many opportunities to make money as a business owner, content creator, affiliate marketer, or basic user. There are many Facebook monetization techniques to apply and earn income.
This article will show you how to get monetized on Facebook and provide tips on optimizing your revenue.
Can Facebook pages earn money?
Yes, Facebook pages can earn money from their content. You can monetize either directly through Facebook or through third-party platforms. The former requires you to meet Facebook's Partner Monetization Policies, which include creating original content, having an established presence, and residing in an eligible country. The latter depends on what monetization method you pick and we will soon list them all. You can jump to this section right now, but we recommend you reading the important pre-monetization part.
There's no limit to what you can earn if you play your cards right.
To Contents ↑
How to prepare for Facebook monetization?
First things first, decide whether you're going to monetize your personal account or create another one just for doing business.
Adsterra publishers recommend creating a new account on any social network, not only Facebook. Here is what our partner Ruben Colón says about Snapchat monetization, but you can scale this piece of advice to any social network:
"I highly recommend creating a new account. You will probably ask why. Well, running business activities is risky. You will have to be very active and test many methods of generating organic traffic. Snapchat can consider some of them suspicious and block your account. If you are not willing to waste time on your account's recovery, simply start with a new test one."
Everything you post should be consistent and valuable from the point of potential profits". We're here to list factors that are important for monetization, so we won't talk about growing your brand or creating unique content. You can earn with less effort, actually.
Examine trends. Your content should be catchy if non hype. Use Google trends as a starting point.
Estimate your potential audience. Facebook Audience Insights can help you to make a snapshot of your readership (available to those who have ad accounts).
Prepare a plan of posting. Remember to include time for rewriting, especially headlines. Adsterra star blogger, Achile Anne, says that creating truly viral content demands time and skills; "One of my primary rules is to make sure the news is really hot — it almost guarantees many views. I check trending topics using hashtags on Twitter, Instagram, and Facebook."
Finally, your headline should be catchy. Making it short is not enough. If you're writing about, say, crimes, it should be truly sensational or at least revealing."
You also need to create original content that sets you apart from millions of other creators. Ask yourself the following questions:
What kind of followers do I have?
What kind of content do my followers like?
What might alienate my followers and push them away?
What would my followers want to buy?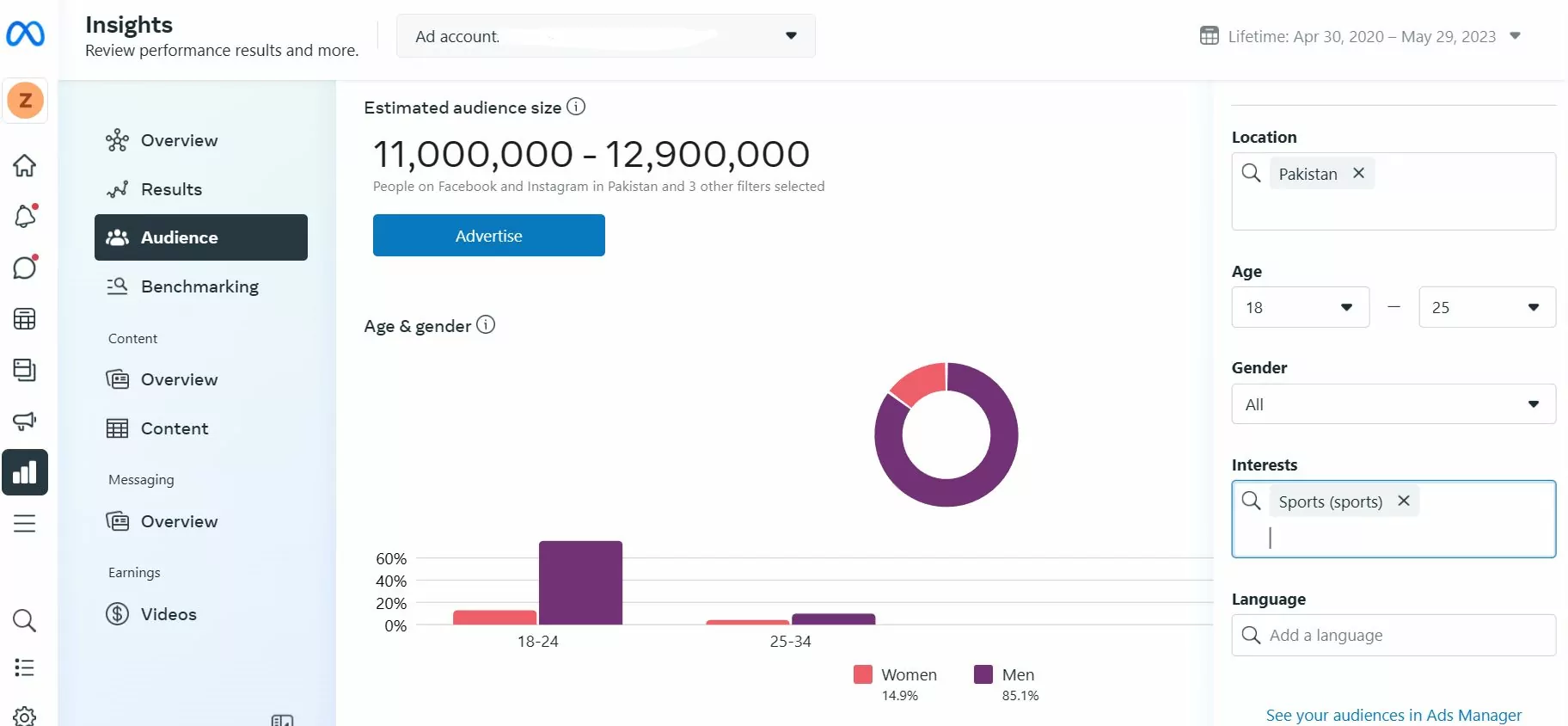 To Contents ↑
How do you know if you're eligible for monetization?
It's very easy to check if you're eligible for monetization. Follow these steps:
Check the column on the homepage's right-hand side and select "Monetization."
Click "Overview" after selecting Monetization. This section will show you what type of monetization you're eligible for.
Ensure your account details are correct, and click "Set up Monetization." You'll get a confirmation email showing that you're ready to monetize.
To Contents ↑
How does Facebook monetization work?
You must first ensure your page complies with Facebook's Monetization Eligibility Standards. These rules are easy to follow, e.g., not uploading copyrighted content without permission or posting misleading content.
After meeting the requirements, you can make money either via Facebook's monetization channels or your own creative channels. Facebook's channels include video ads, ads embedded in your articles, fan subscriptions, and collaborating with interested brands.
An alternative way to make money is by directing traffic from your Facebook page to another website with advertisements. This is an effective method of indirect Facebook monetization.
To Contents ↑
How many followers and views do you need to get paid on Facebook?
Different monetization methods have different requirements. For example, brand collaborations require at least 1,000 followers and 15,000 post engagements or 180,000 minutes of video viewed over the past 60 days. Subscriptions need at least 10,000 followers and 180,000 minutes watched over the past 60 days, and In-stream ads need at least 10,000 followers and 600,000 minutes watched over the preceding 60 days.
The baseline for direct monetization is 1,000 followers and 180,000 minutes of your videos watched.
What is Facebook's Professional Mode for profile monetization?
In 2021, Facebook introduced something called Professional Mode for content creators based in the U.S.A. This feature enables creators to earn money for posting Reels, which are short-form videos of under 30 seconds. Professional accounts can earn money based on how many people watch their Reels. They can also access detailed posts and audience insights to determine how to optimize their videos for maximum views.
10 proven ways to monetize on Facebook
1. Video ads
Facebook lets you play ads in the videos you upload to your page, whether short-form or long-form. You'll earn money each time someone watches an ad or follows the suggested action from the ad. The higher your views, the higher you can earn via this method. You should create exciting and engaging videos for your audience to increase your chances of getting higher revenue.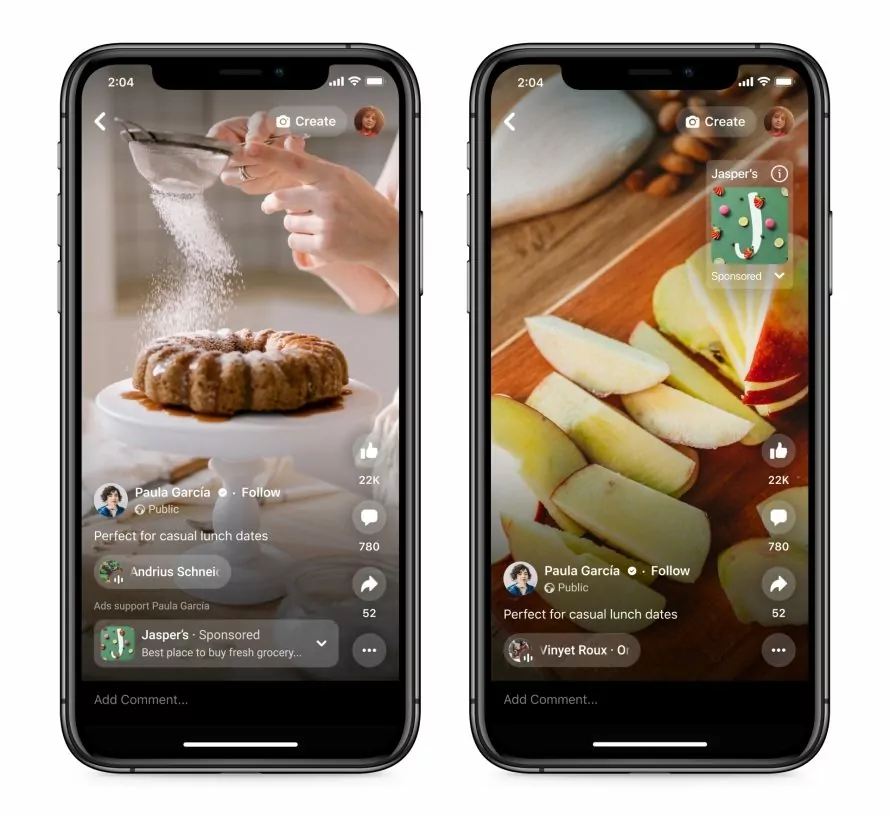 To Contents ↑
2. Fan subscriptions
Page owners can set up subscriptions and collect a monthly fee from their followers to access exclusive content. Subscriptions give you stable and predictable earnings and connect more deeply with your audience. You can offer perks to your subscribers, such as exclusive videos or Facebook Groups. This method lets you convert fans into supporters.
3. Live video
Creators can earn money from their live-streaming sessions. Viewers can buy and send Stars, a virtual good, in the comments section, and you'll earn a cent for every Star you get. It's a fun way to connect with your audience and for them to support you.
Because each Star represents just a cent, you'll need many viewers to make money this way.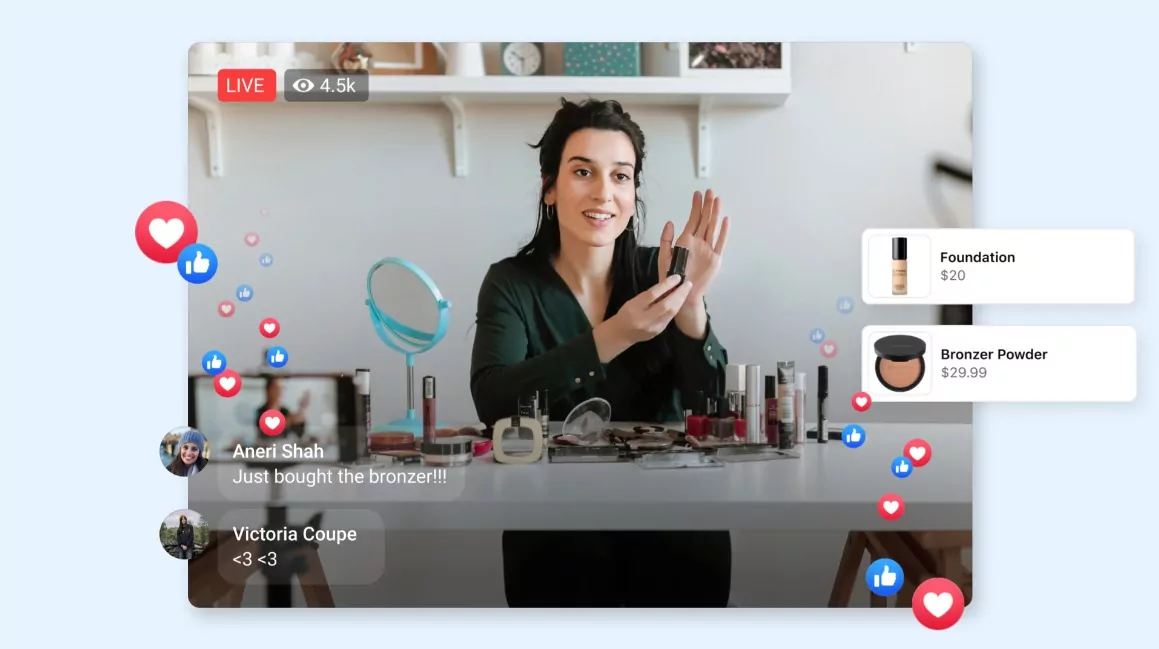 To Contents ↑
4. Sell products to your fans
You can create custom physical or digital products to sell to your audience. For example, if you have a popular fashion page, you can create branded apparel and market them to your fans. Because you're already an authoritative source of fashion trends, your followers will trust you enough to buy your recommended branded products. You can make much money this way if you do it effectively.
5. Offer paid courses or webinars
You can create courses and webinars and charge money for participation. For example, if you run a popular page about website development, you can create courses teaching people how to develop websites. The key is first to build up an engaged follower base willing to pay money for your courses or webinars. Pages with few followers aren't suitable for this monetization method.
6. Affiliate marketing
Affiliate marketing entails promoting products in exchange for a cut of every sale referred from your page. For example, you run a popular cosmetic page. You can select products relevant to your audience, e.g., cosmetics and makeup. You'll earn a fixed percentage of every sale referred from your page, which can add up to significant amounts. The key is advertising relevant products your audience will likely be interested in.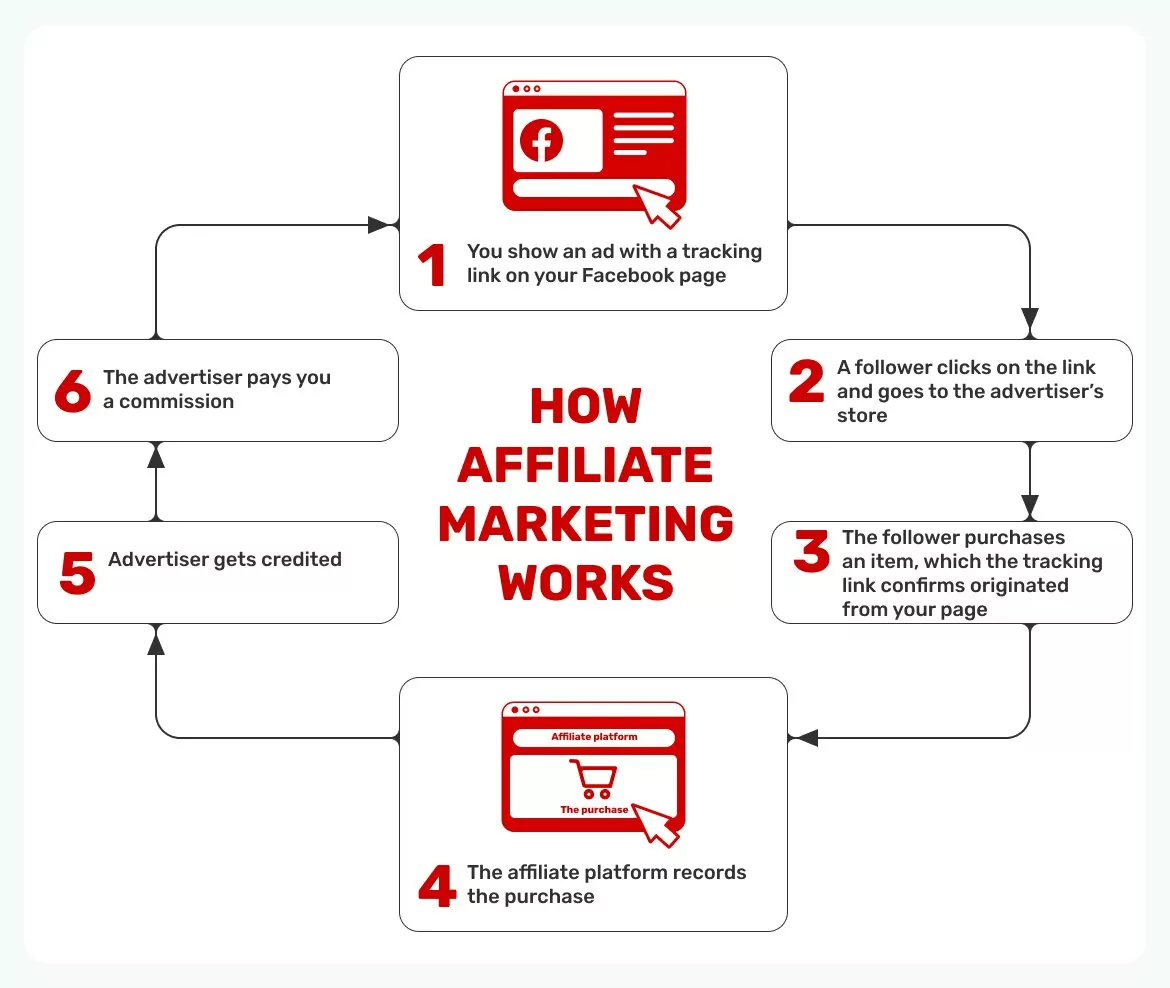 To Contents ↑
7. Sell tickets to online events
You can host pre-recorded or online events and charge money for attendance. For example, if you have a popular talk show page, you can host interview sessions and podcasts and charge a small fee for each event. This is a creative way to make money and build deeper relationships with your audience. Ensure you effectively promote any events that you want to sell tickets to.
Little-Known but effective ways
1. Monetize with Adsterra Direct Link
Adsterra Direct Link enables you to earn money from your page traffic. It is a URL that takes your follower to a page containing thousands of high-paying ads. Adsterra's algorithms decide which ad to show at a particular time, and the ads link to the advertiser's landing page or website.
There are essential rules for placing Direct Link ads, so see our guide on "How To Make Money on Facebook Traffic With Direct Link" first.
You can sign up on Adsterra and get a Direct Link with just a few steps.
To Contents ↑
2. Monetize with Adsterra Popunder Ads
Another way to monetize your social traffic is via Popunder ads. These ads appear behind the full screen of an active browser window. It's just like a popup but hiding in a new browser window underneath the current one. The main advantage is that it's non-intrusive, as viewers won't see the ad until after closing their active webpage.
Follow these simple steps to place popunder ads:
Sign up on Adsterra in a few easy steps
Apply for an Adsterra Popunder code;
Get the code from Adsterra;
Place the code on your website;
After fulfilling the above steps, you'll need to direct traffic from the Facebook page to your website where visitors will see the popunder ads, and you can start earning revenue.
To Contents ↑
3. Monetize with Adsterra Social Bar
Social Bar is an innovative Adsterra ad format for desktop and mobile displays. It appears like push notifications on a webpage and tends to attract the reader's attention. It also appears in the form of widgets, icons, or custom lead forms. Social Bar works on all types of web browsers and operating systems.
Follow these steps:
Sign up on Adsterra in a few simple steps.
Get the Social Bar code from Adsterra;
Place the code on your website or landing page;
After placing the code, you'll need to direct traffic from your Facebook page to your website, where visitors will interact with the ads.
To Contents ↑
Case studies
There are many Facebook monetization success stories that can get you inspired. We'll show you two examples of creators that combined Facebook pages with Adsterra to earn significant revenue.
$2,000 per month on Facebook traffic
Our publisher, Meng Sokseny, earned over $2,000 monthly via Adsterra. He began in January and earned about $400, and three months later, his earnings topped $2,900.
Meng Sokseny runs a blog covering different content categories, including Lifestyle, Health, Mystery, etc. He targeted local traffic only from his home country. He created several Facebook fan pages and groups to promote his articles. He posted original and reposted content from other pages, adding his website links to them. He also asked friends to comment and repost his articles. This led to a spike in traffic, which he monetized via Adsterra Social Bar ads.
To Contents ↑
Up to $100 daily on a sports blog with Adsterra ads
Waseem Afzal runs a sports blog that he monetizes with Adsterra ads. He drives traffic to his blog from social media pages, with Facebook being the number one source. He finds Facebook groups about cricket and shares relevant blog posts there. He also comments and interacts with other people's cricket-related posts and invites them to view his blog.
Waseem Afzal makes up to $100 daily from blog traffic driven mainly by Facebook.
To Contents ↑
Conclusion
There are endless ways to monetize your Facebook pages. We've listed the 10 most effective approaches and provided tips to help you maximize your income. We also mentioned some case studies of successful Facebook page monetization via Adsterra.
You can earn significantly more by monetizing your Facebook page using Adsterra's Popunders, Direct Links, and Social Bar ads.
To Contents ↑
Facebook monetization — FAQs
How much does Facebook pay for 1,000 views?

Facebook usually pays between $8.75 and $10 per 1,000 video views. Your earnings could be lower or higher depending on specific circumstances, including your viewers' location, type of video, your audience's age group, demographics, etc. Pages with a large following tend to command higher rates than those with a smaller following.

How long does it take to get approved for monetization on Facebook?

The monetization review process can take a few days to a few weeks. Many factors affect the timing, including your type of content, number of followers, and your adherence to the monetization requirements. In some cases, you'll be asked to review details and make some adjustments before getting approved.

How much does FB Reels pay?

Facebook launched a $1 billion Reels fund in 2022, out of which it pays individual creators up to $35,000 a month, depending on the number of video views and followers. Yet most creators earn between $1 and $5,000 monthly from Reels. Higher sums are usually for creators with massive followings.