Many publishers and influencers still don't monetize social media traffic at its maximum. Yet, there are little-known ways to add some steroids to your profits. Our team decided to roll out a combo guide. You will grasp the tried-and-true methods to generate revenues from your following. To add more, you will access the best practices laid out by real moneymakers and bloggers. 

Don't put off your monetization activities until tomorrow. Access to all Adsterra instruments as a publisher.
---
DISCLAIMER

1. In this guide, we don't focus on how to monetize Facebook pages or TikTok accounts. Our job today is to explain less-known but legit techniques to cash in on social traffic you can get from ANY platform. 

2. You will learn new terms like ad formats and Direct Links, so don't hesitate to click the links included to get a bigger picture of monetization opportunities.

3. Some publishers put Direct Links right in their bios or social media posts. But we must urge you that FB and other platforms can see this as their rules breach.
---
What is social traffic?
A pretty stupid question, right? Nevertheless, it's all-important for those who work hard and want to earn from their efforts. Answering it, we will reveal some hidden opportunities for pulling extra cash.

Social traffic is a cumulative term for all users visiting your social media accounts. You can divide them into Facebook, Snapchat, TikTok, X (Twitter) followers and visitors, and so on. But that's half of the explanation. You can also say that all views and clicks these users perform on these platforms refer to social traffic. And you can extra-monetize every view or click you get from your following.

Let's walk through the two little-known ways to get additional payouts.
To Contents ↑
Little-known ways to monetize social media traffic
1. Adsterra Direct Link with a website
Adsterra Direct Link is a profit supercharger. Let's outline how you can monetize social media traffic with this format.
What is a Direct Link (also: Smart Link, Smartlink)?

It's a URL containing thousands of ads, which will open up once a person clicks the link. You take this URL from Adsterra and attach it to any content: a line of text, an image, a GIF file, a button, etc.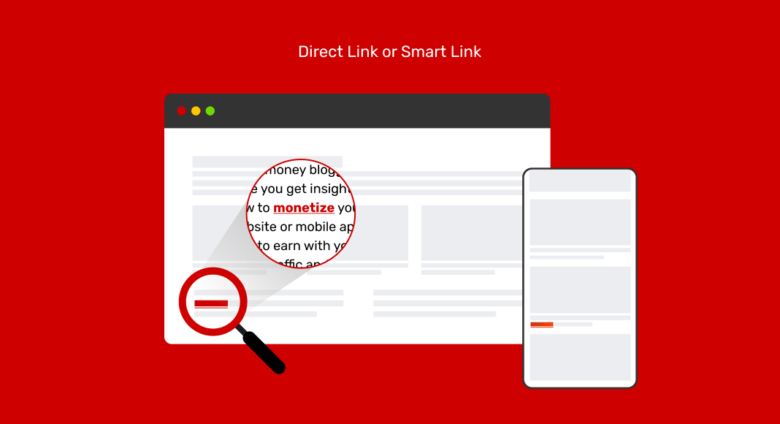 To Contents ↑
How do you monetize social media traffic and a Direct Link?
If we explain the entire process in one sentence, this will go as follows: you send traffic from any social network (FB, IG, TT, etc.) to a web page with a Direct Link, and Adsterra pays you when users click the Link and view ads.
Yep, you are paid for leading people from social networks to a web page where you've placed a Direct Link. And that's a turbocharging way to extra monetization! Let's divide the process into simple steps:
1. First, please sign up as a publisher. Only this way you can get the Smart Direct Link's code.

*Here's a more detailed guide to registration, in case you need a clue.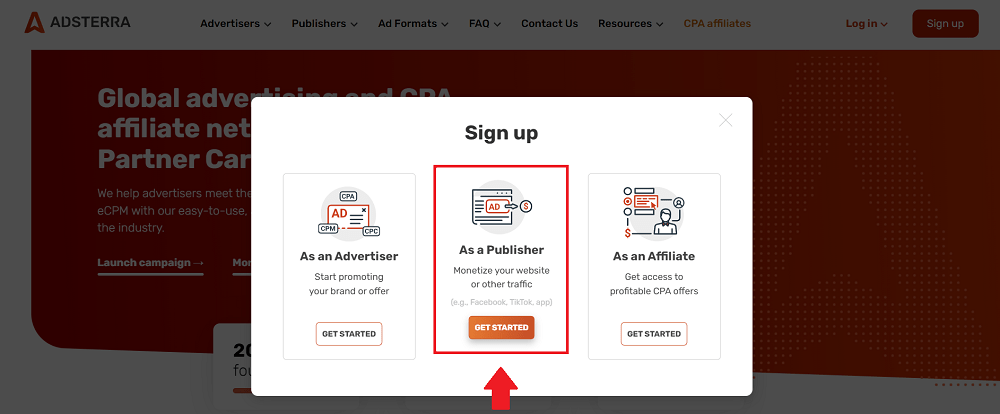 2. Second, open the Direct Links page from your account and click CREATE DIRECT LINK.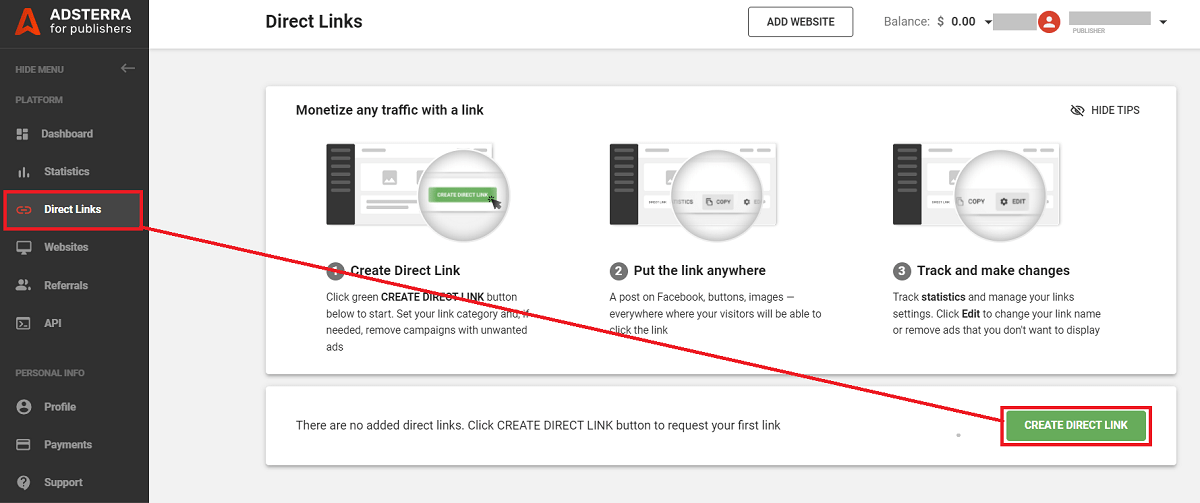 A new window will pop up. We recommend allowing all types of ads, not removing any unless it's critical to you. Click ADD.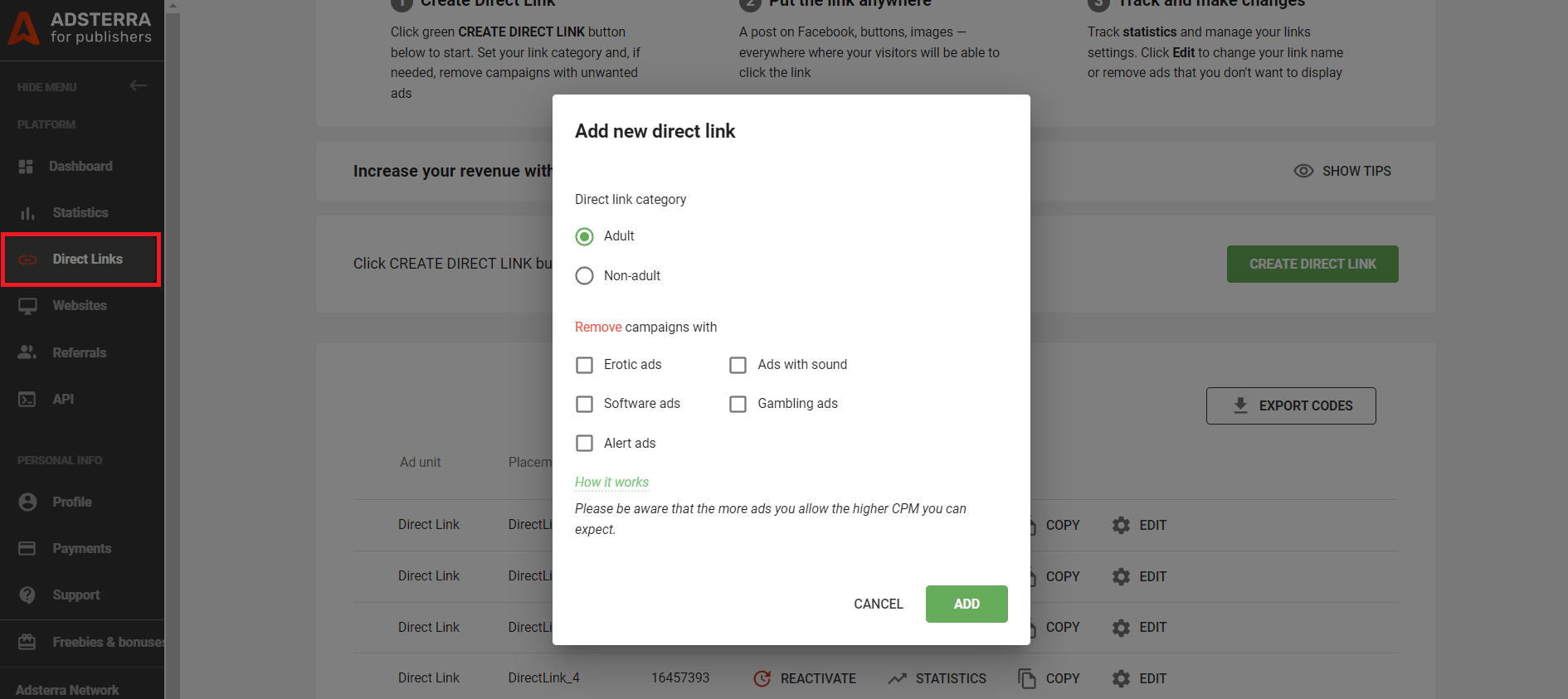 3. Wait until the Link's status becomes Active; when it is, click COPY to save the code. You will soon need it.

4. You now need to place the Direct Link's code anywhere. But where?

If you have a website, find the most visited or new page with great content. Add a code to a piece of text or an image that you are sure users will notice and click.

* We described in detail how to add any ad code to a WordPress website.
You're almost finished. One more step to go!
5. Finally, you should create posts on your social media account. These posts will contain a link to a website where you placed the Direct Link! Try to make posts or videos viral and attention-grabbing.

In the example below, there's a picture that looks like a video cover. After a user clicks the picture or the link in the post, they will be led to a website with short video news. Each news contains a Direct Link in the text.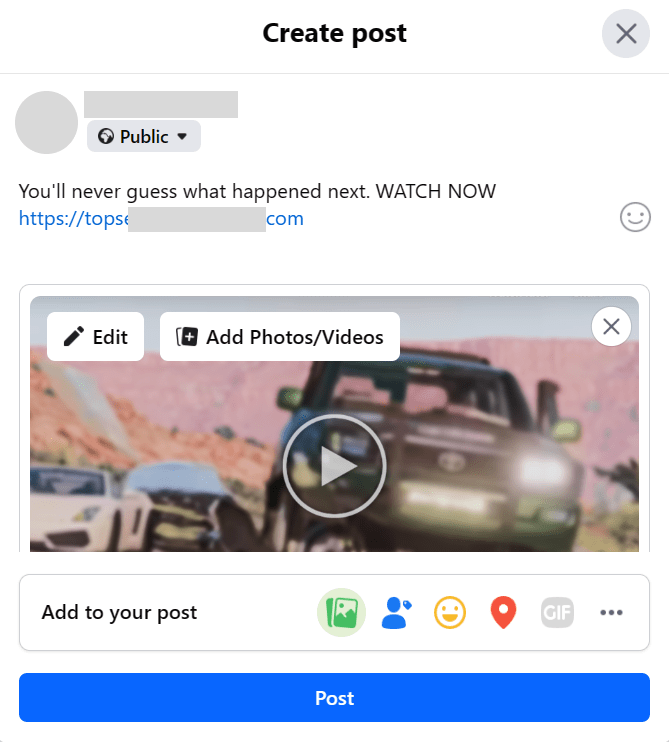 Top 3 tips:
We don't advise you to cheat on your social media followers. It would be just right if you lead them to a web page or landing page with exciting content. At least, it should be an existing page. Otherwise, your followers may unsubscribe.
Create viral social posts that will grab your audience's attention and make users click.
If you've just started creating a blog or a landing page, choose a trendy niche that always draws attention.
To Contents ↑
2. Adsterra Direct Link and no website
What if you don't have a blog or website? Fear not! You can create a landing page on WordPress, Blogger, Google Sites, or any other page builder within a day. This landing page will accept your social traffic from Facebook, Twitter (X), Instagram, or TikTok.

Here, we share three essential guides that can help you out:
The principle of monetization of social media traffic without a website is the following: you create a simple web page, then you put a Direct Link's code to this page and make audiences from Facebook or other platforms visit this page. When users click the Direct Link, watch ad pages, and buy goods and services advertised, you get paid.

Let's now unlock another way to generate ad revenues from social media following.
To Contents ↑
3. Display ads with/without a website
This way of monetizing social media traffic is almost the same as the previous one. But with a much wider range of opportunities to generate additional income.
What are display ads?

These are all sorts of visible advertisements that you can place on a web page. The most well-known are Banners, rectangle or square images that you have seen on many news websites. Display ads differ from Direct Links by visuals and more complex behavior.
Types of display ads:
Popunders are ad formats that will open up a new page with ads in a new browser tab every time a user clicks anywhere on a web page.
Social Bar or In-Page Push, neat and user-friendly ads that look like push notifications, iOS/Android widgets, and chat messages.
Native Banners: a set of images with selling headlines that melt into the web page's content.
Also you can encounter Banners, Interstitials, Interscrollers, and many other visuals related to display advertising.

To Contents ↑
How to make money with social traffic and display ads
Again, a website or a landing page is required. You will need to get an ad code from Adsterra and place it in your website's code according to instructions. Let's gallop through another example. We'll examine how to install a display format, not just links.

Log in as a publisher and find the Websites tab. Click the ADD WEBSITE button.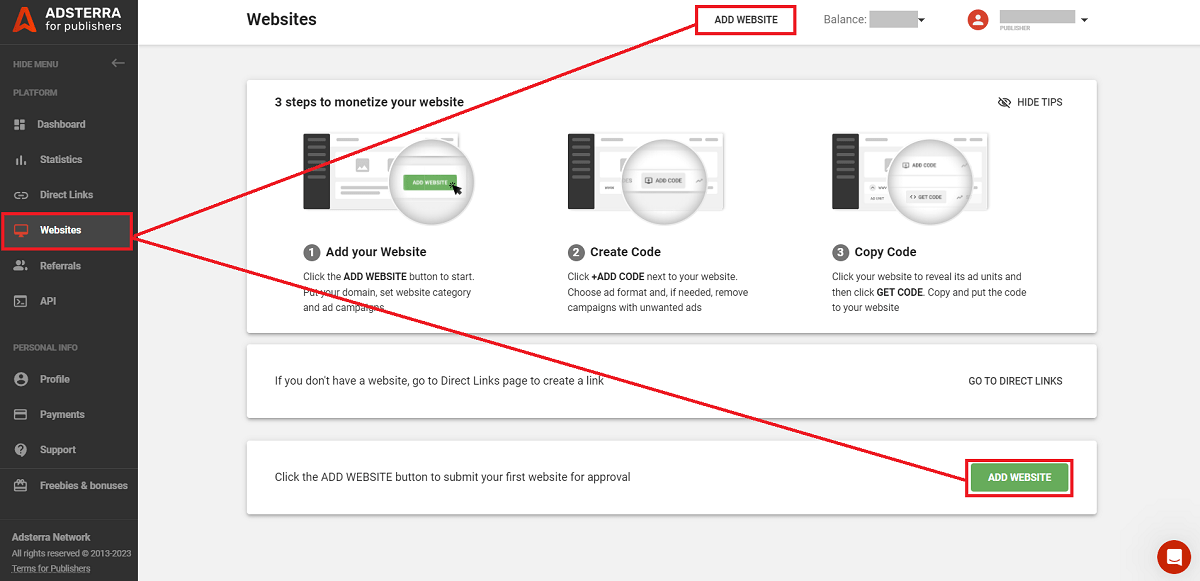 On a popup window, pick Popunder* in the Ad Unit section. You will also need to enter your website URL starting with "https" and select a suitable category your website refers to. These are basic settings, which are enough to get started. Click ADD when finished.

* Picking this ad type was just one option in the list; you may choose Social Bar or Native Banners if they suit your website best. Pop ads are just one of the highest-paying yet easy-to-install formats.

Your Popunder is about to get generated. Look at the Websites page. Find your website in the list and click the down arrow icon. The status of the Popunder code you added must be Active.

When you see the ad unit's status marked Active, click the GET CODE icon. In a new popup window, please copy the code and read the instructions about where to put it. Popunders must be placed before the closing "</head>" tag.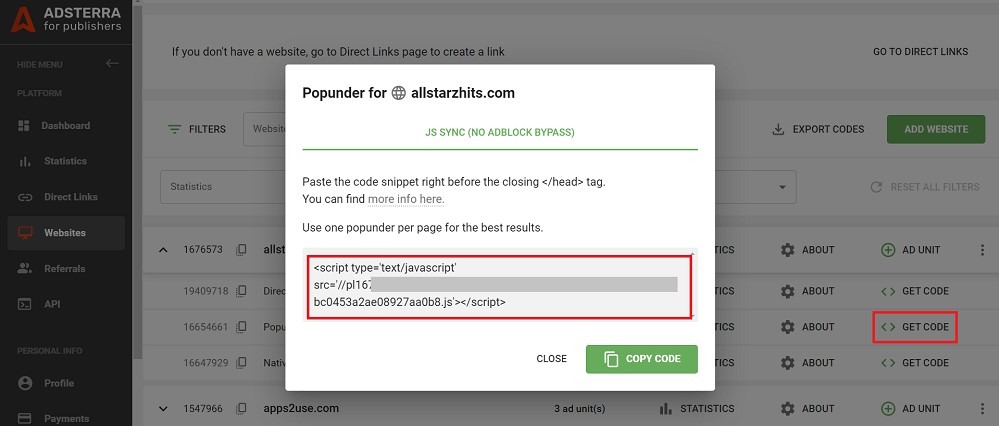 Armed with a new code, you will now have to place it on a web page. If you can access the HTML version, you must find the appropriate place to insert the code. If you're using WordPress or Blogger, there's no need to dig through HTML in many cases.

We've reached the most exciting part: real-life examples and insights shared by practitioners.
To Contents ↑
Bloggers who successfully monetize social media traffic
It's practice time! You will now read about successful bloggers who monetize social media traffic with Adsterra. They've been through some ups and downs, and if you want to absorb every piece of their experience, just follow the links we dropped after each story.
1. $2,000 per month: A story by Meng Sokseny
Meng Sokseny has developed a profitable earning plan. He runs a blog (a website) combining several viral topics: local news, lifestyle, health, secrets, and mysteries. Adsterra Social Bar is placed to monetize web traffic.

What does he do to boost ad views and get more traffic? Meng Sokseny has created several niche-related Facebook pages and super-catchy posts to support his every new blog article. He comments on similar posts outside his page, adding links to his website, as well.

As a result, Meng Soskeny attracts high-intent users who read his articles and click ads (CTRs are up to 44%!)
2. $800 Daily: A story by Onyejekwe Augustine
While our previous publisher is dealing with local traffic from Cambodia, Onyejekwe Augustine masterfully generates US traffic. His winning formula is creating 5 to 10 short posts on Twitter (now X), driving all traffic to his WordPress-based blog.

A secret he shares is in creating super viral headings for Twitter posts, pairing them with non-generic images and photos. Users massively сlick to follow from social posts to the website looking for more details. Here, they can read sensational content and also…watch ads by Adsterra advertisers.

You might be wondering if social traffic is a predictable source of earnings. Unfortunately, not. It doesn't mean you can't make $800 daily, though.
3. $1200 in two months: A story by Achile Anne
Achile Anne is not another lifestyle blogger. A passionate content producer, she's keen on creating engaging social posts based on trending videos. She manages to find extra or little-known facts about celebrities and adds these details to a piece of news. Then, come some amount of live footage, and voila – here is the post that can drive thousands of viewers to her blog.

To enrich her blog with hot news, Achile Anne searches for trending topics using hashtags on Twitter, Instagram, and Facebook. She then converts celebrity videos or pictures into full stories that people will enjoy reading. This helps retain users on web pages and increases the number of ad views.
To Contents ↑
Less-known facts about social media traffic monetization
Social traffic from any geo delivers good earnings
Traffic from social networks is at the peak of demand. Its users are more active than organic traffic from Google and Bing. They're more likely to interact with viral content, engage with unusual ads, and …buy! Yes, advertisers love users who subscribe, download, buy, and order.
How about Tier 1 and other tiers?
Indeed, classic Tier-1 traffic (the US, Canada, the UK, and other countries) is paid higher. But we're witnessing a true marketing revolution nowadays. Ad views from emerging and high-prospect countries like India, Brazil, and South Africa are also gaining higher CPM rates.
Can I increase my website earnings with social traffic?
The more followers or visitors you generate on social media, the more opportunities you have to earn. Still, that should be quality traffic. So, the answer is positive: your earnings may increase if you add social media traffic to other sources, like search engines, referrals, etc.
Can I monetize social media traffic if I'm not an influencer?
Many of our blog readers don't sell merchandise and don't write product reviews. They're not brand ambassadors as well. But still, they earn some $200 to $800 and more daily only by driving their Facebook or X (Twitter) audiences to specific landing pages with ads.

You, too, can become an online entrepreneur if you place advertising and work hard on bridging social media accounts and your web inventory: a site, blog, or landing page.
I'm an affiliate marketer. How can I monetize social media traffic?
If you're a media buying pro, you can opt for CPA marketing. It's when you join a CPA network, pick an offer left by an advertiser/brand, and then buy traffic for this offer. Your job will be to balance spending on traffic acquisition and payouts from your advertiser/brand. The cheaper conversions are, the more profit!

If you only deal with organic traffic, you can try the way described above: put advertising codes on web pages and earn from ad views, clicks, and conversions.

This guide doesn't observe influencer or classic affiliate marketing based on the tailored promotion of third-party products for commissions.
To Contents ↑
Recap: What to do right now to earn extra money?
Choose a source of social traffic. Will it be a Facebook page, an Instagram account, or a TikTok vlog?
Prepare a web page or blog where you will be leading audiences from social media.
Place advertising codes on a web page and ensure they work correctly. Start with 1 or 2 codes, and avoid putting too many ads.
Create several engaging posts engaging your social media followers to visit a web page. These are usually some triggering news or teasers that promise readers will discover more exciting facts if they click.
Monitor user clicks and engagement; re-upload images and change headlines if you notice poor performance.
It's not a big deal to monetize social media traffic, right? Well, of course not: you will have to plan, test, retest, monitor, and…generate a whole load of new content. With the latter, we can help you out: take a look at these tools for automated content creation and read this tutorial for writing ChatGPT prompts. But above all, join and start earning more today!