If you have a website, a youtube channel, an Instagram meme page, or a Facebook group, the chances are that you've thought of advertising for brands to earn money. Affiliate marketing is an excellent option here. Publishers who have solid traffic and looking to monetize it can profit from getting commissions promoting goods and services. For qualified affiliates, it started as a side hustle and quickly evolved into their primary source of income. Those pros who don't have traffic to sell, prefer to buy it directing to brands' landing pages. Roughly said, we talk about classic affiliate marketing and CPA marketing. Both require significant financial investment on your part. So how much do you need to invest to guarantee success?
In this article, we break down all of the potential costs of starting and running an affiliate business so that you have a clear idea of how much money you should set aside.
The primary costs of getting started with affiliate marketing can range from $0 to $350, depending on the type of traffic and online assets you use to get offers in front of your target audience.
To get a better idea of how much it might cost to get started as an affiliate marketer, we're going to walk you through all the costs associated with each step of the process.
What is the actual cost of affiliate marketing?
You must first purchase traffic (to understand what paid traffic involves; we've published several affiliate marketing guides for you). Then join a reputable affiliate network and select an offer. Different networks may have more or less strict criteria for who they accept as affiliates. As a beginner, you may face rejections from time to time, prolonging the time it takes for you to get started. However, you can spend that time better researching the market.
The only things you'll need to start your first campaign are an offer, a traffic source, and an affiliate marketing budget for testing.
The amount of money you'll need is determined by the offer or program you choose. As a beginner, you should avoid high payout offers, which may appear appealing due to the profit potential, but are extremely difficult to optimize to profitability. Offers with high payouts require experience and large budgets, so keep them for later.
We suggest starting with a low-payoff offer. If you're unsure about the appropriate vertical, let us point you to a CPA offers article that we recently published. Surveys and sweepstakes are low-cost, simple-to-run, and ideal for learning.
The recommended testing period is 3-5 days, and the optimal daily budget for testing is $100. For most low-payout offers, a marketing budget of that size should be enough.
To Contents ↑
Affiliate marketing verticals — from the cheapest to the most expensive
Your initial testing budget is determined by the vertical you choose, the types of offers, and the competition. The lower the offer's payout, the more likely you are to get conversions. Simple, low-payout offers also don't need expensive traffic to produce results.
With a small budget and a single campaign, you can make profits quickly.
Tier brackets aren't always accurate, for example sweepstakes offers can be scaled from low to high budgets with high earning potential. In addition, when compared to campaigns run in Tier 1 countries, antivirus mobile campaigns in Tier 3 GEOs can be quite affordable.
Here's how we can categorize affiliate marketing verticals in general:
Lower entry barrier and simpler conversions:
Sweepstakes,
Mobile Downloads.
Medium entry barrier and tougher conversions:
Education,
Dating,
Mainstream VOD,
Travel,
Streaming,
Lead generation,
Antivirus,
VPN.
Higher entry barrier and difficult conversions:
Casino,
Gambling,
Crypto,
Finance,
Diet & Nutra,
E-commerce.
To Contents ↑
List of expenses all affiliates need to cover
To get started as an affiliate, you'll need a budget of around $500. Remember that some of the tools you use are paid every month, so you'll have to reinvest a portion of your earnings every month. The following is a breakdown of the expenses:
Investments in traffic
When you have massive organic traffic and plan to monetize it with classic affiliate marketing, you won't normally spend any money. However, if you're a CPA marketer or prefer creating landing pages to drive paid traffic, then you will have to become a wizard of budgeting. Generally, $300 is enough to run a few tests and earn some money. The first campaign you create should be aimed at Tier-3 customers (GEOs).
What is a traffic tier?
Advertisers typically use "Tiers," which are groups of GEOs (geographical locations) based on the purchasing power of customers in that region:
Tier 1 — GEO set with the most active buyers, including expensive goods. Also, these are the most technologically advanced countries, fast Internet coverage, online payments. They are also the most competitive GEOs for offers and ads;
Tier 2 — GEOs that are less competitive and have an average purchasing power, less likely to buy;
Tier 3 — GEOs that primarily include developing countries where 4G/LTE is being massively introduced, but buyers are not so active yet.
Also, choose an offer with a simple conversion flow (i.e., one that does not require deposits or credit card submissions).
To Contents ↑
How to test a CPA offer
What is the best way to test an affiliate offer (including traffic, creatives, and landing pages)? Check out our article on testing CPA offers here.
Tracking tools
You can track the performance of your ads with the built-in statistics dashboard like when you buy Adsterra traffic. Powerful Updates of the Adsterra Statistics for Advertisers
You can invest in a separate tracker for more flexibility, which often costs $100 per month.
And Adsterra will also come to the rescue here! All our advertisers get exclusive discounts and promo codes for top tracking systems. Don't Miss Red-Hot Adsterra Bonuses and Freebies [by Top Partners]
To Contents ↑
Spy tools
These tools can help you identify high-performing competitors, so you know what kind of ad you'll need to create. These apps or websites often begin at $40 and include several features such as keyword research and search results page analysis. Of course, you can find free options available, but they have limited functionality.
Here's our guide on excellent competitor research tools to help you maximize your CPA marketing efforts.
Landing page builders
You should check if your CPA network offers ready-made landing pages before investing in a landing page builder. If they don't, a decent builder may cost around $20. Ensure that your choice of landing pages is downloadable to avoid vendor lock. Besides, we've provided several other criteria for choosing a landing page builder that'll drive conversions.
Translating tools/agencies
If you want to target a lucrative GEO, you shouldn't let language be a barrier. Upwork, Fiverr, and other freelancing platforms offer translation services, which cost around $5 per hour if you get a good deal. You can also look into the following services. Translation services usually charge per number of words, and unless you need an entire ad translated, it shouldn't be very expensive.
For shorter texts, Google Translate may be enough. But using a professional service will increase your ads' credibility. For short translations, services like Transey or One Hour Translations usually charge less than 10 cents per word. Pricing depends on your chosen language.
To Contents ↑
Creatives and images
Free stock images are becoming increasingly popular, but the truth is that most users can recognize them as such. Paid platforms like Shutterstock and RawPixel offer more options and cost around $29 per month.
Training
Investing in training isn't strictly necessary to start as an affiliate marketer. On the other hand, proper guidance can shorten your learning curve, reduce trial and error, save you a lot of frustration and disappointment, accelerate your progress, and significantly increase your chances of success. Nowadays, getting high-quality affiliate marketing education can cost anywhere from $50 per month to $997 per year (one-off).
Outsourcing
The majority of aspiring affiliate marketers begin as a one-person operation. However, as your business grows and your responsibilities multiply, managing everything on your own will likely become nearly impossible.
You'll have no choice but to begin outsourcing some of your daily tasks to freelancers at this point. Thankfully, there are plenty of freelancers with experience in various fields, including
Website design,
Content editing,
Email content creation,
Social media management.
Your website costs
It's possible that you already have a website; if not, here's how much a basic website costs.
On average, you can expect to pay an upfront cost of around $200 to build a website, with a maintenance cost of approximately $50 per month.
| | |
| --- | --- |
| Website feature | Upfront Website Cost |
| Website domain | $12 – $60 |
| Website hosting | $35 – $600 |
| SSL certificate | $0 – $200 |
| Website template or theme | $0 – $200 |
| Apps and Integrations | $0 – $100 |
| SEO and Marketing | $0 – $90 |
Using a website builder, WordPress, or hiring a web designer are the three main ways to create a website. Your choice will have a significant impact on the cost of your website. Using a web builder is free, but hiring a web designer can cost over $5,000.
While WordPress is a free, open-source platform, you will have to pay for hosting, themes, plugins, and professional help from a developer, which will add to your overall cost.
To Contents ↑
Tips to help keep your expenses low
While having the proper budget is essential; you should also devise a strategy for keeping your expenses low. Here are some tips to help you maintain healthy finances:
Spend Less on Hosting
You may be able to save a few dollars and better understand your campaign's technical side if you take the time to learn how hosting works.
Look for a CPA network with short hold times
All CPA networks require you to wait a certain amount of time before you can withdraw your earnings. Beginners should look for networks with the shortest holding periods. Or else you'll have to wait longer to launch your next campaign, which can throw off your schedule.
Plan ahead of time
To increase your chances, you must plan ahead. We recommend estimating your daily budget, keeping the hold period in mind, and determining the best tool selection.
For example, if you plan to run a campaign for ten days and your total traffic budget is $300, you should estimate that your daily budget will not exceed $30.
When working with a limited budget, you should only promote specific offers. When joining an affiliate network or affiliate marketing program, it's essential to consider the types of offers available. There are, however, additional factors to consider.
Run your campaigns in smaller GEOs;
Choose a single vertical and stick to it, but run multiple marketing campaigns to test more offers;
Optimize your campaigns only after you've gathered enough data;
Make a strategy and stick to it;
Use white and blacklists;
Don't set low bid values because you won't be able to take advantage of the traffic's full potential;
Avoid Tier 1 GEOs and other GEOs with large volumes;
Use auto-optimization systems only if you completely understand how they work.
To Contents ↑
Set up fallback URLs
Every website has traffic that does not fit neatly into any ad Network. Typically, this is bot traffic or any other type of low-quality traffic, such as no cookies, proxy, or VPN. For this type of traffic, a backlink or a fallback URL is used.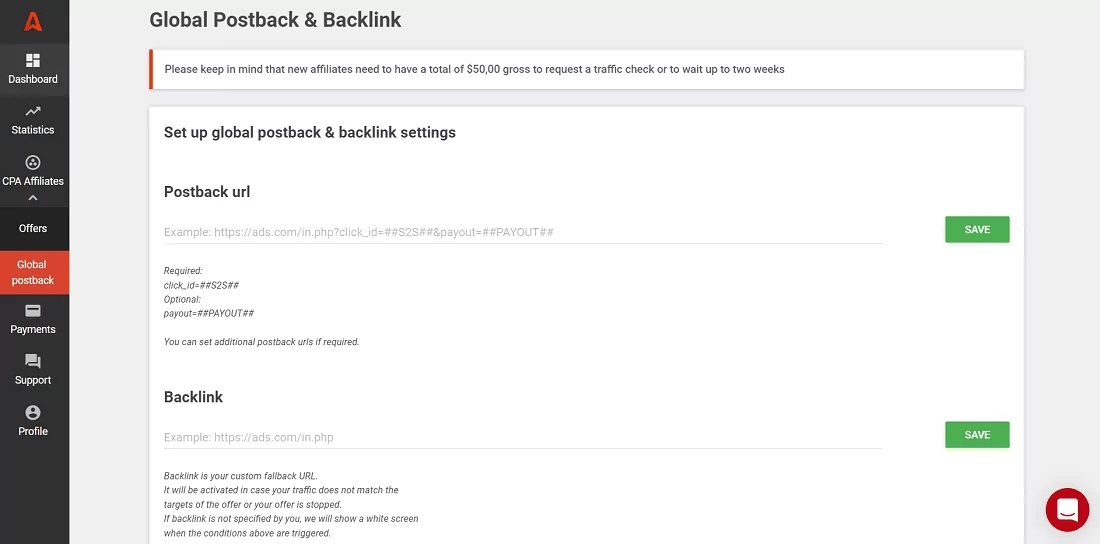 With Adsterra CPA Network, you save money invested in traffic purchasing by directing all unapproved users to your fallback URL.
To Contents ↑
Affiliate marketing expenses and income FAQ
Is it possible to market affiliate products without a website?
Yes, you can do affiliate marketing without having a website by promoting your affiliate links through other forms of digital marketing, such as:
Paid ads on social media,
YouTube,
Online communities,
Digital products,
Email Marketing, and so on.
You can learn more about affiliate marketing without a website right here. Buying traffic and driving to the advertiser's landing page is an alternative way to monetize your marketing skills. In this case, you will usually have to join a CPA Network or an affiliate program and pick an offer you feel you're ready to promote.
To Contents ↑
Is affiliate marketing the most profitable business model?
While there are hundreds of legitimate online business models to choose from, affiliate marketing is widely regarded as one of the best.
That's because affiliate marketing has many unique advantages over other business models like lack of dropshipping, MLM, and Amazon FBA requirements.
Is it difficult to make money with affiliate marketing?
Making money, in general, is difficult, especially if you've never done anything like it before. Success as an affiliate marketer, like any fruitful effort, requires a steep learning curve and lots of trial and error.
How can I get started selling affiliate products as soon as possible?
While affiliate marketing isn't a get-rich-quick scheme, there are a few strategies you can use to get started making affiliate sales sooner, including
Choosing a niche that isn't too crowded;
Using paid ads;
Promoting popular, high-demand items;
Selecting the right affiliate courses to invest in;
Using email marketing.
Why do some affiliate marketers fail?
Multiple mistakes can lead to failure in affiliate marketing, and here are a few of the most common ones:
Lack of proper guidance;
Promoting Low-Quality Products;
Not tracking performance;
Not making quality creatives when launching ad campaigns or making misleading creatives;
Targeting keywords with a lot of competition.
Is affiliate marketing a multi-level marketing (MLM) opportunity?
Affiliate marketing isn't the same as multilevel marketing. Anyone who believes otherwise lacks a thorough understanding of affiliate marketing and multilevel marketing. Although some aspects of the two may appear similar to the eye, they have nothing in common in the end.
Do I need to buy a course to make money in affiliate marketing?
To succeed as an affiliate marketer, you do not need to purchase an affiliate course. There are countless resources online (e.g., videos, blogs, podcasts, forums, etc.) that can assist you in starting, managing, and growing a thriving affiliate business.
Getting your hands on high-quality, structured guidance, on the other hand, will almost certainly shorten your learning curve, reduce trial and error, speed up your progress, and improve your chances of meeting your financial objectives.
How can affiliate marketing help me make money?
Affiliate marketing is a four-step process that can be broken down into four simple steps:
Choose a niche to focus on;
Build online assets;
Increase web traffic;
Promote affiliate offers.
Conclusion
In general, there is no fixed amount of money required to be a successful affiliate marketer. You should set out a monthly budget for paid traffic and additional tools to help you progress from a beginner to an intermediate affiliate.
The cost of tools ranges from free to extremely expensive, and the more advanced you become, the more money you'll need for additional tools, which will help you earn more money. It's a self-propelling cost and profit spinning wheel.
The most significant expense is traffic, but how much you spend on it entirely depends on your budget. Keep in mind that investing $100 in traffic and then quitting because you lost the majority of it is a surefire way to miss out on a fantastic opportunity. Affiliate marketing takes time and effort, but once you've put in enough time and effort in the testing phase, you'll notice that results do appear, and you'll gradually work your way up to larger profits!