About 33% of bloggers don't make any money out of their blogs, and you surely don't want to be amongst them.
Bloggers who profit from their blogs use ads, affiliate marketing, sponsored posts/reviews, sell products or courses, etc. You can learn how to monetize your blog just like them and start earning passive income becoming your own boss.
So how does one make the transition from being an amateur to a pro blogger? Read along and find the answer to start making money out of your blog posts.
When to monetize a blog?
Before starting the journey, finding the right time to monetize your blog is vital. There is no universal date to start doing it. There is a set of parameters that need to be taken into consideration.
Performing SEO keyword analysis: Merely creating a blog is not enough. Conducting a keyword search and incorporating those in your blog is crucial. One of the best tools for this is Surfer SEO.
Choosing a hosting service: Choosing the right hosting service is also important as it gives the blog more credibility. So investing in a good web hosting service is paramount to building a successful blog.
Finding a target audience: Any blog needs to be addressed to a particular audience. Knowing what it wants and the niche to focus on is vital.
Building an audience: The next requirement is to have traffic which, though not necessarily being huge, must be steady. You can drive massive traffic to your blog in several ways.
Knowing the blog's worth: Once you've done everything mentioned above, the next step is learning what your blog is worth and how much money you can make from it.
Monetizing a blog is complicated. It involves more technicalities and requires thorough research. It isn't necessary to have an audience of thousands, and you can start making money even if you are just a beginner. Your monetization strategy must be in tune with the blog's worth and the trajectory it will take in the future.
To Contents ↑
13 best ways to monetize a blog
Here is a list of best practices used by some of the top bloggers. They can be emulated easily.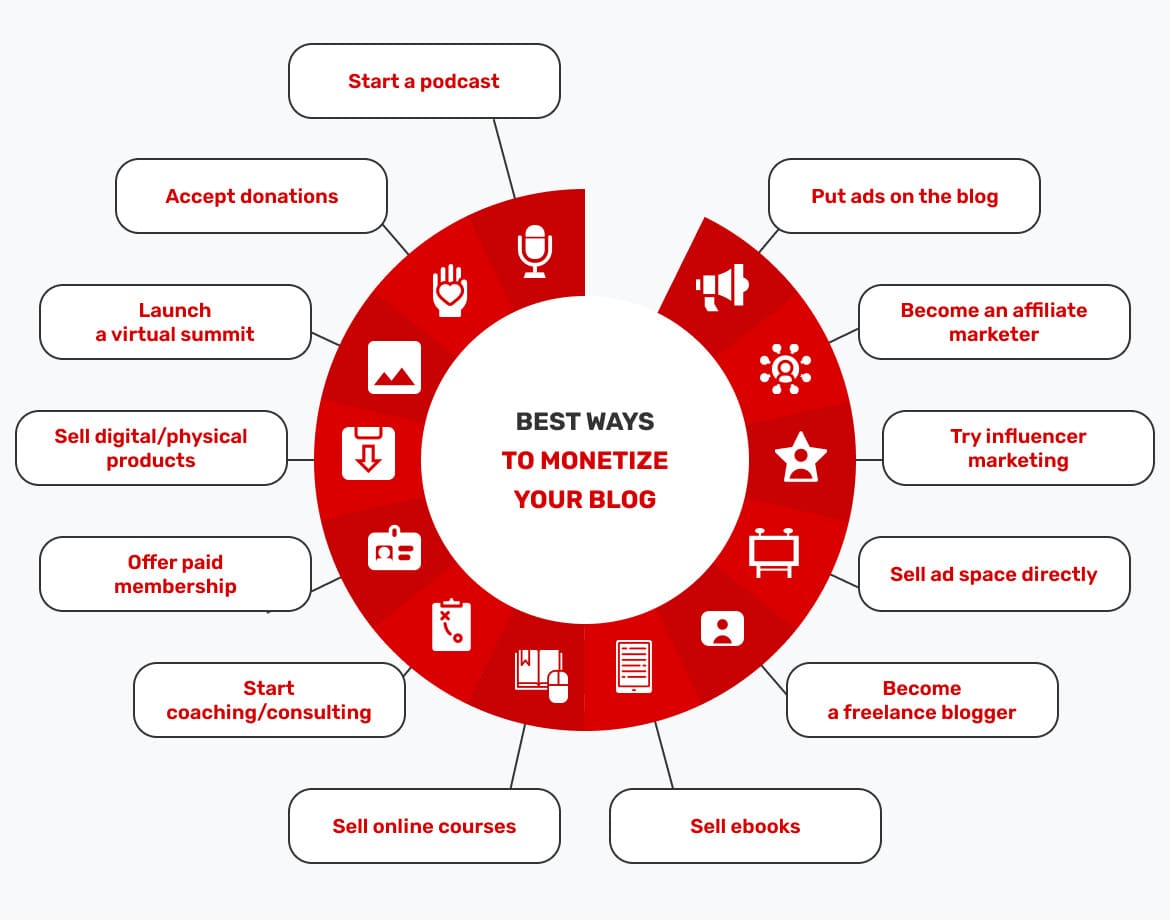 To Contents ↑
1. Put ads on your blog pages and get paid
The most straightforward way of monetizing a blog is to sell advertising space on your blog and put up ads. Anyone can put ads on their blogs and earn a passive income, even if they are just starting out.
There are some really profitable advertising services, like Adsense. However, there are lots of more profitable AdSense alternatives, including Adsterra:
Finding ads that will be interesting for your audience is the key to earning massive amounts of money out of your blog. If the audience considers the ads attractive, they are likelier to interact with them.
More than merely finding interesting ads is going to be required. Another crucial thing to consider is the ad format that you will use on your page, as explained below.
To Contents ↑
Popular advertising formats
Advertising has changed a lot and has become more user-friendly. It generates higher CPM (cost per thousand impressions) and revenues for the blogs. Depending on your page types, content and preferences, there are several ad formats that you can use.
Adsterra gives publishers access to the most profitable ad formats mentioned below.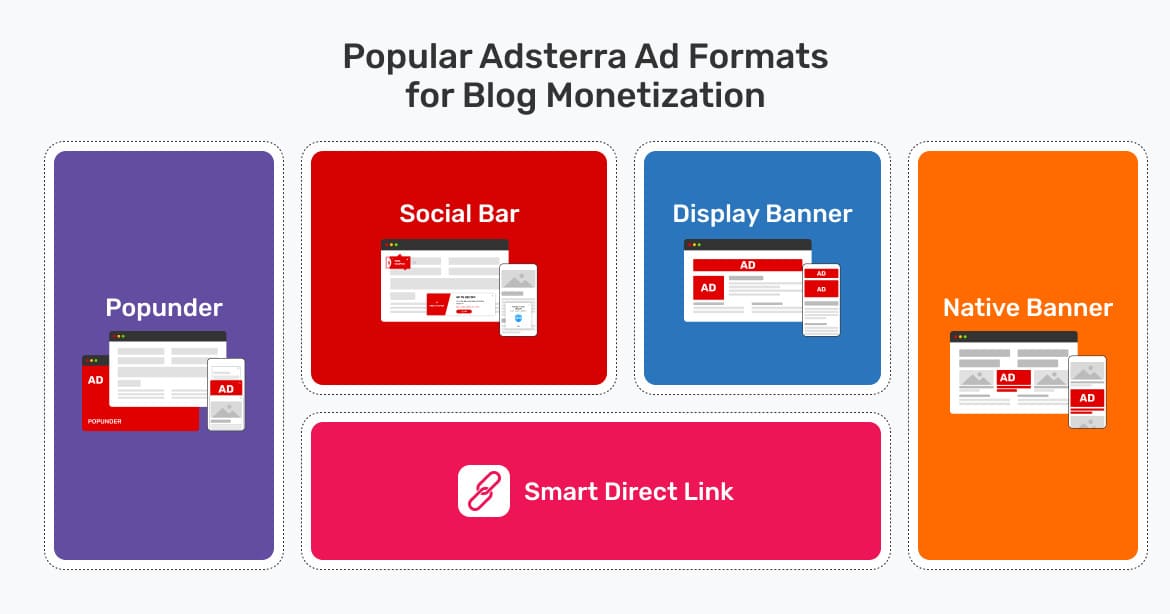 To Contents ↑
Popunder
A Popunder doesn't occupy any space on your website. This ad format is designed in such a way that it opens in a new tab or a browser window.
Once you've added the code for a Popunder on your website, a new tab will open every time a user hovers over or clicks on any area of your blog. It has certain advantages over other ad formats.
No website space is occupied, so you don't have to worry about its placement.
It doesn't overlap with the content of your web pages or blogs.
It is perfectly suitable for websites that have multimedia content.
This format is very user-friendly, as it opens in a new tab and doesn't interfere with the content on your site.
A large number of campaigns are launched using Popunders and are known to generate stable payouts.
Are you impressed? Get more information on Popunder monetization:
While the advantages are numerous, there are a few things to keep in mind when opting for the Popunder ad format.
This format performs best on a desktop website, not iOS or Android devices.
You shouldn't place more than three Popunder codes on the site as it will annoy the reader and move away from your site.
To Contents ↑
Social Bar
A great rival to the Popunder ad format is Social Bar. By 2023 nearly 78% of Adsterra's publishers will have installed it to generate ad income. Social Bar by Adsterra includes Interstitial and In-Page Push ad formats.
Interstitials are ads in the form of banners that cover the entire screen, and the users have to click "close" to access the website's content.
The In-Page Push ad format fits the contents of the page since advertisers can customize it. This ad format is suitable for all devices and operating systems, including iOS.
Social Bar ads can take the form of icons, chat heads, animated push notifications, etc. The readers come across only one ad at a time, and as they navigate through the page, different visuals will make them click on them over and over again.
Social Bar has certain advantages that make it so popular amongst publishers.
It is a very user-friendly ad format.
It is compatible with all operating systems and works as smoothly on mobile devices as on desktops.
Most high-paying advertisers prefer using Social Bar as it has a high CPM.
The ad format can bypass Adblockers.
It is highly interactive and, therefore, generates more clicks.
If you're eager to maximize your blog's earning potential with Adsterra Social Bar, this article is a must-read:
Note: It is highly advisable not to put more than one Social Bar code on a page, as seeing it again and again might annoy the reader.
To Contents ↑
Native Banner
These ads are displayed in the form of blocks of images with catchy descriptions. This format is very popular with publishers, as it is in tune with the blog or website's content and suits any user's interests. The advantages of using the Native Banner ad format are listed down below.
They are fit for all kinds of blogs and websites.
The ads blend with the content.
These ads have catchy headlines and descriptions that make people click on them more often.
The algorithm used by Adsterra matches the visuals with the users' interests.
The banners are customizable according to the structure and design of your blog.
Like this ad format? Dive into Adsterra's article:
The things to keep in mind to make the most out of this advertising format are:
They should blend with the content of the blog.
Try not to use Native Banners at the bottom of your page.
Moderation is important as excessive use will discourage the visitor.
To Contents ↑
Display Banner
One of the most commonly used advertising formats is Display Banner ads. It is a static banner of various-sized images added to the header, footer, or sidebar of the page. With Adsterra, you can choose various banner sizes such as 160×300, 160×600, 300×250, 320х50, 728×90, and 468×60 pixels.
The advantages of using Display Banners are:
They are designed specifically for websites and blogs with considerable traffic.
Since they are of different sizes, you can put them in multiple places and generate high CPMs.
Advertisers in the Gaming, Electronics, and Software verticals prefer Display Banners.
If you're looking to explore the potential of monetizing your blog with Display Banners, then have a look at this guide:
Things to keep in mind before using Display Banners are:
Display Banners are basic in design and blend seamlessly with the page. So they have to be strategically placed for the visitors to notice them.
Like Native Banners, they shouldn't be displayed at the bottom of blogs or websites.
Display Banners, like any other ad format, should be used in moderation, as users tend to get annoyed by too many ads.
To Contents ↑
Smart Direct Link
This ad format is the easiest to use. You can get a unique URL from Adsterra and embed it anywhere on your blog. The link can be placed on images or over blocks of text. Whenever a user clicks on the Direct Link, the Adsterra algorithm gets all the data about the user and shows them ads based on their preferences.
These link-based advertisements can also help earn money without having a website or a blog of your own by directing traffic through social media or email marketing. They have a lot of other advantages:
Smart Direct Link format is suitable for all kinds of websites.
You can monetize any element on your blog and webpage.
It is the best ad format to use if you plan to direct traffic through social media or email marketing.
And, of course, we have a guide to help you monetize your blog with Smart Direct Links:
Some things to remember when using Direct Links for blog advertising are as follows.
If your blog focuses solely on one niche, it becomes difficult to define your audience's interests and show them directed ads.
Try not to place the links on navigation buttons or confirmation links, as it hinders user experience.
As you can see, there are a lot of ad formats, like Social Bar, Popunder, Native Banners, Smart Links, etc., for you to choose from. On top of that, there are other ways to monetize a blog, as mentioned earlier. And one of the great ways to monetize your blog is through affiliate marketing.
To Contents ↑
2. Become an affiliate marketer
Affiliate marketing opportunities are constantly increasing in number and quality. Nearly 80% of brands globally have affiliate programs. And 65% of affiliate marketers use blogging as a tool to generate traffic.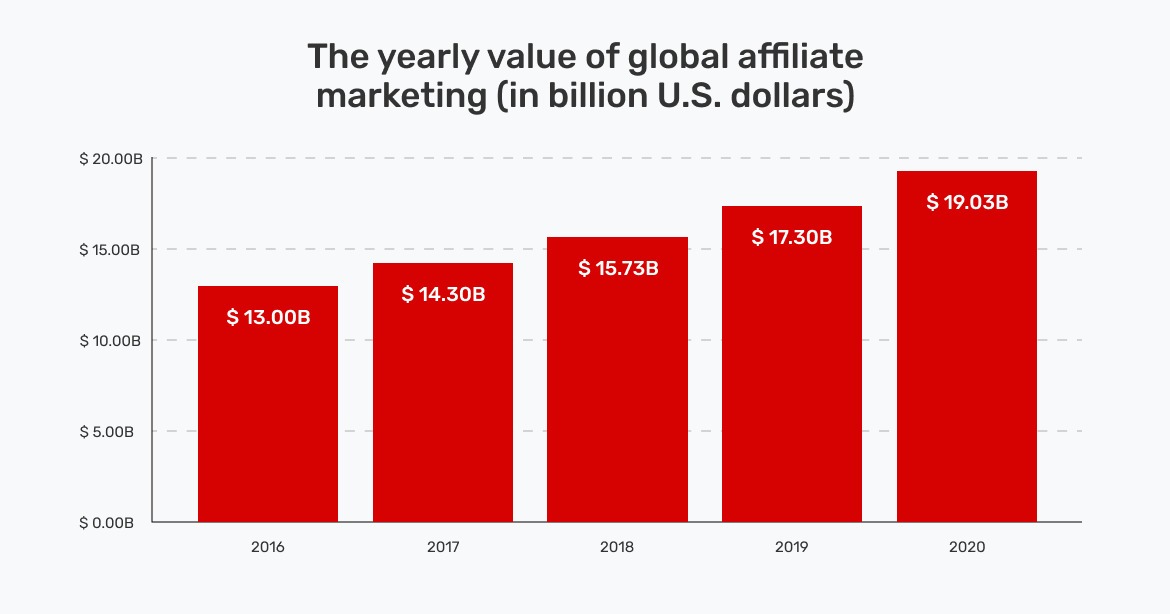 You can promote products or services via your blog and generate revenue if people buy them using affiliate or referral links.
Upon signing up for an affiliate program, you get a unique link or code that can be integrated with your blog to share with your readers. When they click on them and purchase those products or services, you earn a commission.
CPA affiliate marketing is an alternative way of making significant gains (without a blog).
To Contents ↑
3. Try influencer marketing
Fast growing influencer market has become a huge source of blog monetization. Influencers make money by producing content sponsored by businesses on their blogs.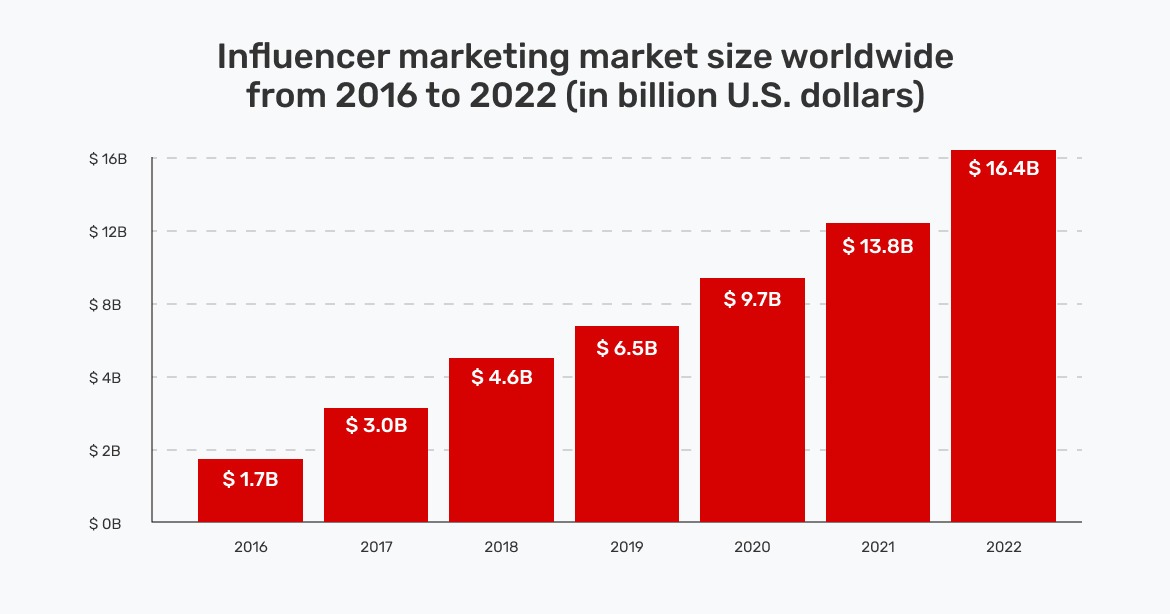 Sponsored content is meant for beginner bloggers only if they already have a huge following in other media. This is because companies need to be sure that if they sponsor some content, it will lead to sales.
Once you've built a substantial audience, you can start reaching out to companies that are known for sponsoring content. These can be firms whose products or services you already use or those you are interested in using.
One thing to ensure while doing a sponsored post is to provide an honest review and give your readers a better understanding of what they are looking for. Merely writing praises for the company sponsoring the post isn't worth losing your readers' trust.
To Contents ↑
Differences between influencer marketing and affiliate marketing
Influencer marketing differs from affiliate marketing, as no link has to be added to your content for the visitors to click on. Rather, companies pay you to write blog posts that promote either their brand or products. However, influencers usually mention brands and link to them. But it's rather a more sophisticated way of promotion.
4. Sell ad space directly
The best way to monetize is by putting ads on your blog or website. The techniques for earning money out of blogs mentioned earlier involve getting ads through ad networks. But you can also sell ad space directly.
One way to do it is to look at other successful bloggers in your niche and the ads featured on their blogs. After that, you can reach out to those companies through cold emailing and make an offer.
As a publisher or a blogger, you can make the offer more lucrative to the advertisers by showing them the analytic data of your blog:
bounce rates;
views;
social reach;
audience demographic;
rate cards for ads that you are willing to publish for them.
To Contents ↑
5. Become a freelance blogger in your niche
Freelance writing is one of the most sought-after and demanded skills. If you are knowledgeable about your niche and are good at search engine optimization, then the opportunities are endless.
You can use your blog as a part of your portfolio and pitch it to clients in your niche. Upwork, Fiverr, etc., are platforms where you can find new clients easily and start earning.
Good writers are paid hundreds of dollars as shown by Write Worldwide.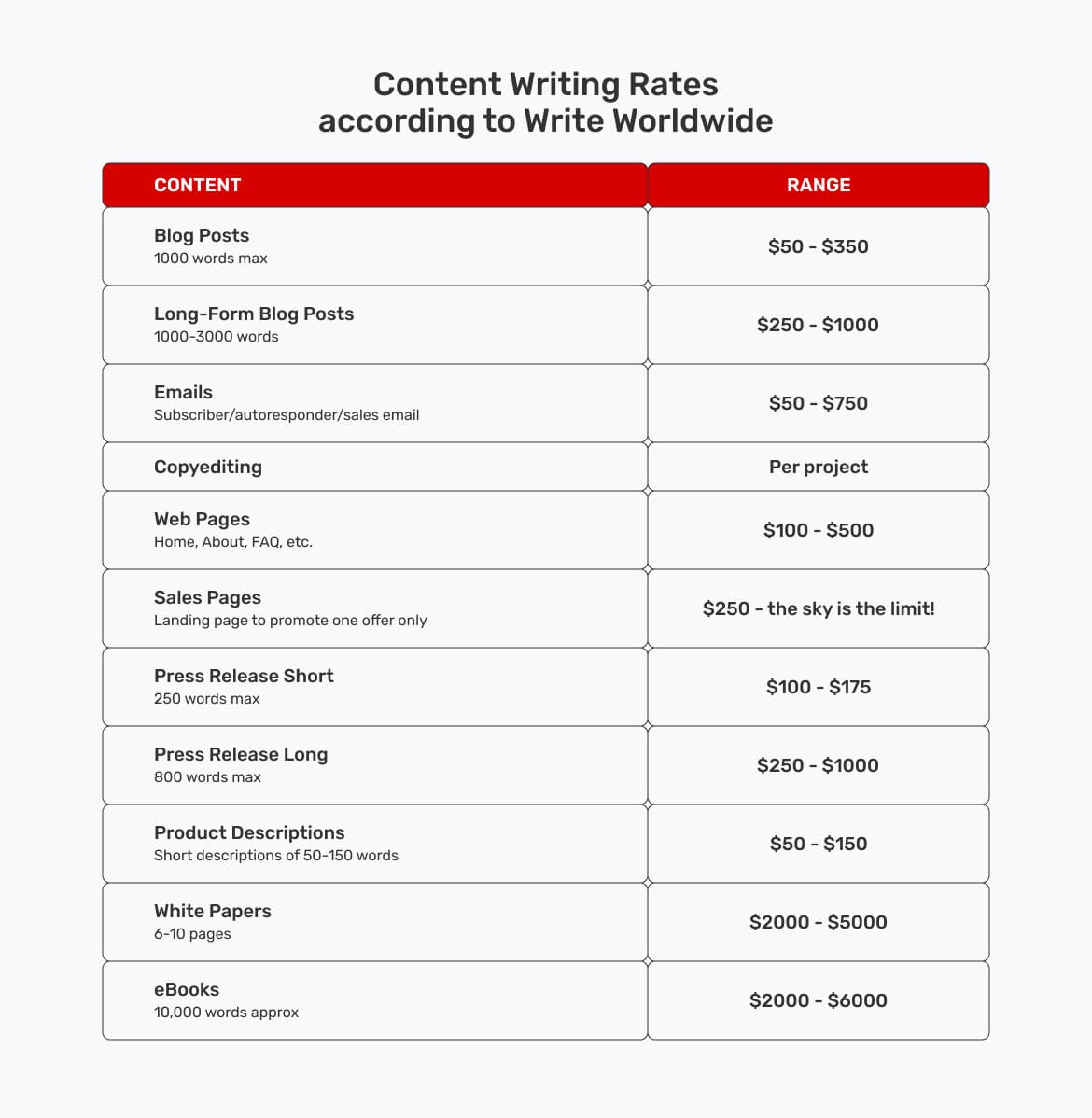 Lots of clients give a byline to their freelance writers and help them establish an online presence. Once you have garnered enough readers, you can direct them toward your personal blogs or newsletters and start earning money from multiple sources.
To Contents ↑
6. Sell ebooks to your audience
Ebooks are a great tool for making money as you don't have to provide any physical copies. A good way to sell ebooks is to share free value from abstracts of your books with your readers on your blog or social media. If they are interested in learning more about what you offer, you can pitch your ebook to them.
You don't need a large audience to sell ebooks. It can be done through a simple WordPress blog and a handful of readers. As long as the content provided in your ebooks is informative and useful, you will make decent money out of them.
7. Create and sell online courses
Creating a paid online course is a good way of monetizing your blog. If you know how to make learning something fun, you can sell your courses on the blog. You can teach anything, ranging from your interests and hobbies to your formal education and in-demand skills such as social media marketing.
E-learning has already been on the rise but has really picked up pace after the COVID-19 pandemic. According to Global News Wire, the e-learning market is expected to reach around $325 billion in value by 2025.
If you have a decent number of readers, you can use the strategy below to develop the course ideas.
Read the comments and try to answer the questions your readers put to you briefly.
Conduct a survey of the topics your readers want to learn about.
Do a Q&A with your readers through social media platforms like Twitter or Reddit.
Conduct a poll asking your readers to pick a few topics on which you could produce a course.
Once you have narrowed down the course ideas and created the course, you can begin selling it to your readers. And since you've considered their input, you already have customers interested in paying for it.
To Contents ↑
8. Start a coaching/consulting business
If you successfully sell ebooks and teach online courses, you should give coaching/consulting a shot. But this strategy is common to experienced bloggers, and you can use it from the beginning.
The coaching business relies on providing your knowledge and expertise to help people solve problems in their lives or to give them directions. It can be about anything, like helping people lose weight, find more clients, deploy better marketing strategies, etc. Successful consultants like Brennan Dunn charge around $9k for advice on email marketing.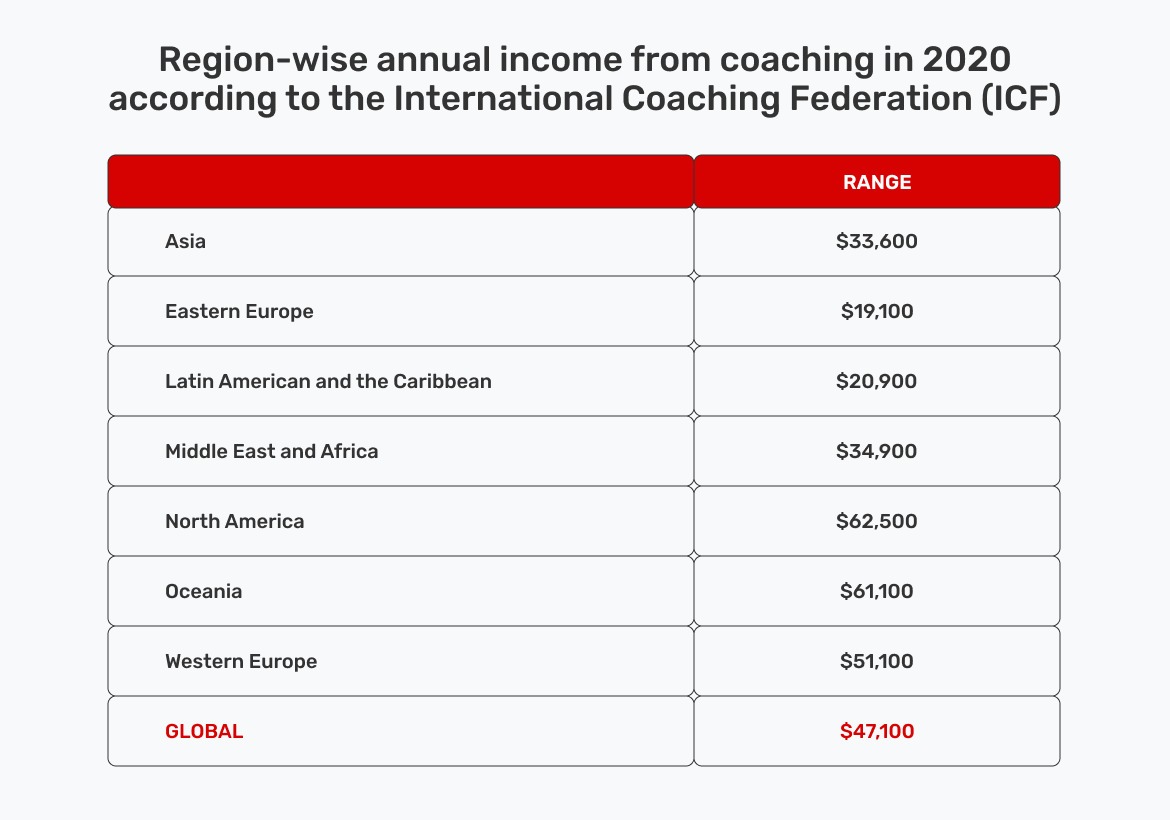 Consulting business only relies on a small audience. Rather it depends on the quality of your clients. The growth can be achieved through word-of-mouth. You can leverage your posts by providing valuable information to the readers and encouraging them to purchase consulting sessions with you.
To Contents ↑
9. Offer a paid membership plan
The majority of internet companies, such as Netflix, Amazon, Spotify, etc., work on subscription-based models. But this isn't limited to big firms, even bloggers can do it.
Providing your readers with a membership plan helps in building interpersonal relations with them. It also forms a strong sense of community amongst the users who have access to exclusive benefits. This, in turn, helps you retain them as paying members.
10. Sell digital/physical products to your audience
A large number of bloggers have transitioned from selling just a few products or digital items on their blogs to building successful e-commerce businesses.
Eric Bandholz started off by writing about beard grooming and then launched Beardbrand, which makes more than $100k a month. Clay Collins wrote about optimizing landing pages in his blogs. His audience wanted customized templates integrated with their pages. So he decided to create Leadpages for it, and now the business earns around $25 million a year.
Hence, if you have any skill, physical or digital product that you can sell to your audience, then it could be the best way to monetize your blog.
To Contents ↑
11. Launch a virtual summit in your niche
Virtual summits differ from webinars, as summits are more interactive. The audience can join in, ask questions, etc. As a blogger, you can either keep the summit free for the audience or charge a small amount to provide them with all-access passes.
You can also pitch your online courses, ebooks, products, etc., to the audience during virtual summits. And if they see you provide valuable answers to their questions, you'll be able to convert them into regular customers.
12. Accept donations on your blog
The key to monetizing your blog through donations is the fact that people are more inclined to contribute money if they are provided with beneficial information.
Many plugins on WordPress can be used to accept donations, or you can give a link to your Patreon page. Then they will be able to show their appreciation for your work and encourage you.
Tim Urban, one of the best-known bloggers, makes between $7k–19k each month through Patreon donations alone. If you provide free content to your readers consistently, the chances of making a passive income through donations are very high.
To Contents ↑
13. Start a podcast
Podcasts are the fastest-growing medium of content consumption across the globe.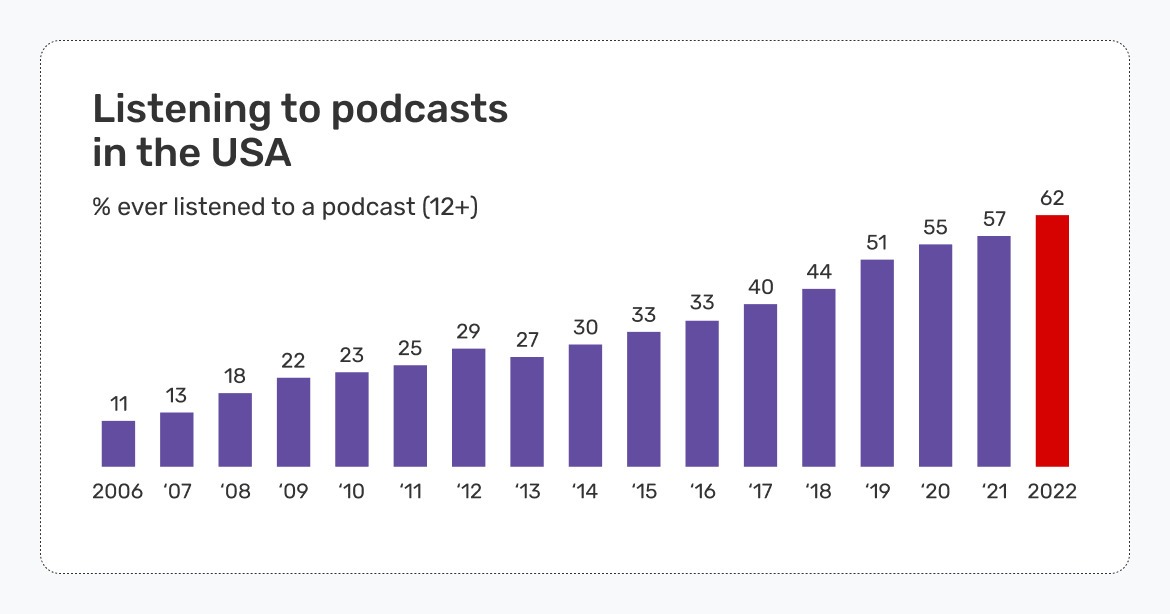 Podcasts allow bloggers to share their content in an entertaining and engaging manner. You can invite established bloggers as guests and drive the listeners to your blogs. If your podcast develops a large enough audience, you can turn it into a source of income by taking on sponsors.
Starting a podcast is easy, but it still requires a small amount of investment.
To Contents ↑
Blog monetization tips
Now that you know the best ways to monetize your blog, there are some tips you should keep in mind while choosing a monetization strategy.
Pick a profitable niche
While some bloggers and writers have made a lot of money out of their writing, the market is highly saturated. Chances are that the topic or niche you choose is already full, and it will be challenging to find an audience.
Thus, it is vital to pick a niche that isn't only profitable but also suits your interests and knowledge.
Produce quality content
No one is required to be an expert to make money out of blogging, but having enough knowledge about your topic is important. This is because you will only be able to retain, grow, and build an audience if your content is of good quality.
If you provide helpful information to your readers, the audience will be more inclined to fall for your monetization strategies.
Focus on fewer monetization strategies
The monetization strategies mentioned above are all tried and tested and have proven to be very beneficial. But the important thing here is that you shouldn't use them all at once.
Pick a few of these that suit your audience, niche, goals, etc., and focus on how to maximize the returns from them.
FAQ about monetizing blogs
How much time does it take to monetize a blog?
There is no specific time frame when it comes to monetizing a blog. It depends on a number of factors, such as the availability of resources, the quality and quantity of traffic, the effort put into it, and the type of monetization strategy used. Generally, it can take anywhere from a few days to several months to start seeing a return from any blog monetization efforts.
How much traffic is needed to monetize a blog?
The amount of traffic isn't the key to making a profit from a blog. You can start using monetizing methods as soon as you start blogging, but the revenues won't be very impressive from the start. If you are producing good quality and exclusive content, the traffic will grow with time, as well as your earnings.
How can I convert users better?
Bloggers can convert users better by creating engaging content that their audience is interested in. Using strong calls to action and offering incentives for people to take desired actions will also help.
To make users click on ads, bloggers need a moderate strategy for placing advertising codes. Pick the most viewable parts of the page for ads but keep in mind that they should not block navigation buttons.
How can I make money if I don't want to sell products or give coaching?
Selling products, services, or coaching isn't the only way to monetize your blog . Different methods, such as placing ads, affiliate marketing, influencer marketing, donations, freelance blogging, etc., are the available options.
One of the best ways to monetize your blogs without selling anything is by placing ads with Adsterra. It gives a publisher multiple options of ad formats that they can use on their blogs and start making money.
Which blog site is best for earning money?
Most successful bloggers use WordPress or Blogger. WordPress allows for more customization and scalability, whereas Blogger is more user-friendly and has an easier setup process. Both offer a variety of monetization options such as affiliate marketing, advertising, sponsored posts, and product sales.
Additionally, there are many other blogging platforms available:
To Contents ↑
How much does a blogger earn per month?
There is no limit to what a blogger can earn by their writing. But a good blogger using the right tools, like the ones provided by Adsterra, can earn around $20, $50, $100 or even $800 per day.
Waseem Afzal, a cricket blogger from Pakistan, turned his love for sports and cricket into a successful side hustle. He works in a medical college and writes about cricket on his blog. He uses Popunder and Social Bar to make around $30–$100 daily.
To Contents ↑
How many views are required to monetize my blog?
It's impossible to answer this question without knowing more about the type of content you are producing, the topics you are covering, and the size of your audience. Generally speaking, however, most ad networks require at least 1,000 page views per month before they accept your blog to their program.
Conclusion
Blogs are the best way to earn passive income, and you can even make it your full-time job. There is a large audience across every niche that requires quality content, and if you can provide that, you can start monetizing through the methods described in this article.
New bloggers can start with affiliate marketing and placing ads, while the more established ones should try selling courses, products, or consultations. But regardless of your experience, Adsterra is always here to help you start earning from your hard work and passion.
To Contents ↑
Suggested articles